Veronica's Room (2008)
From sltarchive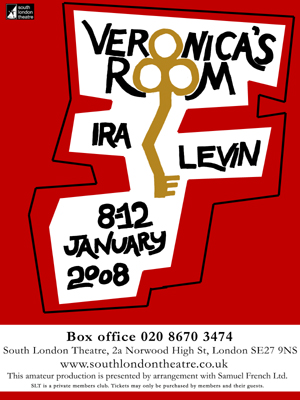 by Ira Levin
Performances: Tue 8th - Sat 12th January 2008, Bell Theatre
Introduction
"Like being trapped in someone else's nightmare," described a theatre critic about Veronica's Room, a play by Ira Levin (Deathtrap, Rosemary's Baby and The Stepford Wives).
Susan Kerner, a young student and Larry Eastwood, a young lawyer she's just met, have been enticed to the Brabissant mansion by the Mackeys, a charming, elderly Irish couple who are struck by Susan's strong resemblance to Veronica Brabissant, long dead daughter of the family for whom they work. They view Veronica's picture in her room, untouched by time. Susan is induced to impersonate Veronica to solace the only living Brabissant, her addled sister living in the past and believing Veronica is alive and angry with her.
But once dressed in Veronica's clothes, Susan finds herself locked in the role and locked in Veronica's room. Or is she Veronica, in 1935, pretending to be an imaginary Susan?
Cast (in alphabetical order)
Crew
Reviews
Some review quotes go here
Gallery
Production photos by Neil Biggs and Mark Davies - click on thumbnails for larger images
Reminiscences and Anecdotes
This production is 15 years to the month since the previous one.
The poor writer Ira Levin died within a week of us starting rehearsals. Harsh, was it a good or bad omen? It went pretty well though, so probably good. - Ed Cartwright
See Also
References
<references/>
External Links