Up 'n' Under (2000)
From sltarchive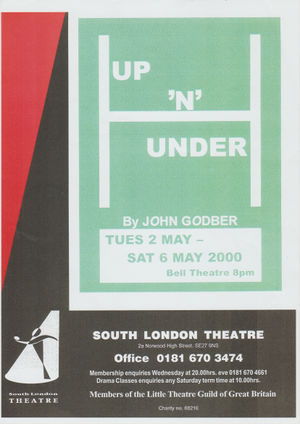 by John Godber
Directed by Sarah Slater
Performances: Tue 2nd – Sat 6th May 2000, Bell Theatre
Introduction
A play of two halves. Set in 1984. In Northern England.
Cast
Crew
Reviews
Some review quotes go here
Gallery
Reminiscences and Anecdotes
Members are encouraged to write about their experiences of working on or seeing this production. Please leave your name. Anonymous entries may be deleted.
Chris Bennett: I wrote the following notes as a contribution to a 'It was 20 Years ago' feature in April 2020:
Up N Under was my third SLT production since I had joined the previous summer. The play tells the story of a perpetually unsuccessful amateur rugby league team, (the Wheatsheaf) and I played Frank: a simple but kind hearted member of the team who was fond of playing in sandals.
The play is an ensemble piece and there were only six of us in the cast: the five men were mostly recent members with only 10 previous SLT productions between us whereas Maxine Canham was making her 18th, and so far final, SLT appearance. Sarah Slater directed with a combination of firm vision and relaxed good humour which meant rehearsals were always fun and enjoyable.
Rugby, whether League or Union, is something I know nothing about but others did which meant the second half finale of the grudge match between the Wheatsheaf and their arch rivals the Cobblers could be choreographed effectively and accurately.
The only potential problem was that Jenny and I were due to be married on the Friday of run up week (28th April). Fortunately the rehearsal that night was rescheduled in order to allow director, prompter and fellow cast members (as well as many other SLT'ers) to attend our wedding reception in Croydon.
Two distinct memories of the production: 1) The rugby shirts we wore looked great on stage. They were made bespoke by a professional shirt designer of our acquaintance and showed the Wheatsheaf logo on the front and the Cobblers on the reverse (we played both teams!). I still have mine and it recently was on display in the OFS foyer as part of the January 2020 'sports' themed SLT Wardrobe display.
2) We were blessed with good houses throughout the week but the Saturday night is the one I particularly remember. A combination of a sell out audience, an early May heatwave and the SLT central heating system locked in the 'on' position with nobody sure how to switch it off meant we were sweltering on the Bell stage particularly during the extremely physical match scenes. I do not think a cast has ever been more glad to get to the Bar after a performance. Jenny saw every production as lighting operator and says she still thinks it is one of the best things I have done at SLT. 20 years on, that is good enough for me. CB
See Also
Have there been other SLT productions of this play? Link to them here.
Or add anything that is related within this site. The author's page for instance or other plays with a similar theme.
References
<references/>
External Links