Under Milk Wood (2004)
From sltarchive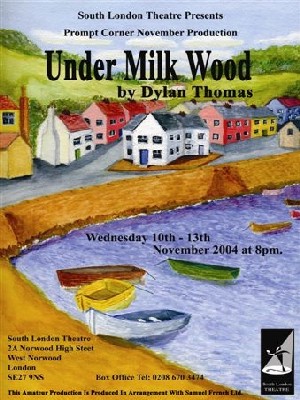 by Dylan Thomas
Directed & Designed by Juliet Male
Performances: Wed 10th to Sat 13th November 2004, Prompt Corner
Introduction
From dawn to dusk you meet the 60 odd characters, who make up the town of Llareggub, from Mrs Ogmore-Pritchard and her two "abused" husbands to Dai Bread and his two wives. There is Lily Smalls, "Mrs Beynon's treasure" and Mae West Cottage whose aim is to "sin until she blows up". There are the sinister Pughs and gossipy Willy Nilly the postman. At the heart of the play is blind Captain Cat listening to the town and dreaming of his past life at sea and his lost loves, Polly Garter remembering her past lovers whilst "comforting" the living and Rosie Probert, who died long ago. There are the musical problems of Mr and Mrs Organ Morgan and the hilarious drinking problems of the Mr and Mrs Cherry Owens. We eavesdrop on the secret passions of Miss Myfanwy Price and Mr Mog Edwards. During a single tranquil, spring day fantasy and fact blend into a bewitching mixture.
Cast
Crew
Reviews
Some review quotes go here
Gallery
Reminiscences and Anecdotes
Members are encouraged to write about their experiences of working on or seeing this production. Please leave your name. Anonymous entries may be deleted.
See Also
References
<references/>
External Links