The Wisdom of Eve (2009)
From sltarchive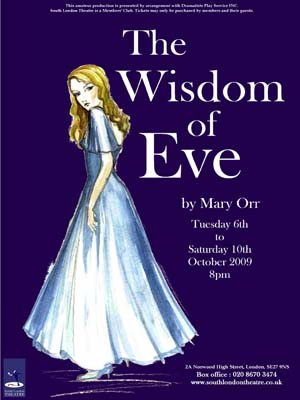 by Mary Orr
Directed by Peter Medd
Performances: Tue 6th – Sat 10th October 2009, Prompt Corner
Introduction
Adapted from the story by Mary Orr on which the film All About Eve and the hit musical Applause were based. This stage version is an engrossing and revealing inside story of life in New York's theatre world, related in terms of an unscrupulous and manipulative ingenue's rise to Broadway stardom. We follow the development of Eve Harrington's career, initially regarding her a shy, sincere and conscientious individual whose dream is realised when she is taken on as a personal secretary by her actress idol, Margo Crane. Gradually, we become aware of the real 'dream', and the true nature of Eve's character and motives become apparent as she becomes Margo's understudy and eventually cheats and blackmails her way to Broadway success<ref>http://www.josef-weinberger.com/weinberger/plays/play/wisdom.html</ref>
Cast
Crew
With thanks to: Naomi and the cast and crew of The Lonesome West (2009). The folks behind the SLT bar, in the box office, and Front of House. Beckenham Theatre Centre.
Reviews
Some review quotes go here
Gallery
http://www.photos.sltarchive.co.uk/thumbnails.php?album=71
Reminiscences and Anecdotes
Members are encouraged to write about their experiences of working on or seeing this production. Please leave your name. Anonymous entries may be deleted.
See Also
Have there been other SLT productions of this play? Link to them here.
Or add anything that is related within this site. The author's page for instance or other plays with a similar theme.
References
<references/>
External Links