The Weir (2005)
From sltarchive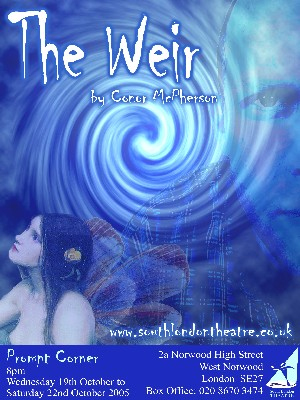 Directed by Jenny Gammon
Performances: Wed 19th October – Sat 22nd October 2005, Prompt Corner
Introduction
A one-act play set in a bar in a remote part of Ireland: the local lads are swapping spooky stories to impress a young woman from Dublin, who's recently moved in to the area. She turns the tables on them in this wonderfully rich and vivid tale. Bewitchingly funny. Contains strong language...and drink.
Cast
Crew
The cast and crew would like to give a special thanks to: Helen Brown, Alan Buckman, Val Williams, Dee Fancett, Mike Elliott.
Reviews
Review for Backstage by Richard Watkins
The Weir is a One Act slice of rural, remote southern Irish life. In simple terms, 4 local men and a young woman recently arrived from Dublin come to a pub, exchange some stories, drink a lot and then leave. It moves from off-hand banter and earthy humour to a spooky atmosphere of late night ghost-story telling, and the exploration of loneliness and loss.
Jenny Gammon's production was convincingly Irish, and set exactly the right atmosphere. The set gave an authentic idea of Brendan's Irish pub, without being fussy. Prompt Corner's small space was used to its full intimate and claustrophic effect.
The actors adopted consistent, authentic accents (though I am not an expert), helped by Tony Emerson's voice coaching. The pacing of the action was spot on, managing the mood changes perfectly from light joshing into muddier territory, as the men almost blunder into the eerie stories.
They are perhaps innocently entertaining Valerie with their local folklore, but become increasingly conscious that they may be spooking her out. With each story the actors expertly conveyed vivid pictures of the old characters and ways of this backwater (of old Moira Neelan and the Walshes), with pacing and timing that really drew one in (making the rather crude light fades redundant).
Jealousies arise over the attention of Valerie, particularly between Finbar and Jack. We find that Valerie can compete with the rest of them, when she tells heart-breakingly of her daughter dying and speaking to her from beyond the grave. (Maybe it's something about the company of strangers which helps us open up.) Then Jack has a sad tale of complacently losing the one love in his life. The themes of loss and regret rising more keenly and poignantly above pub talk of ghosts.
Of the cast, the men made very believable old chums. Alan Brown stands out for particular mention, especially gritty and real as the cantankerous Jack. Brian Andrews was also very good as the earthy Jim (and the big bushy beard looked great). John Hartnett was possibly a little miscast as Finbar (the most successful and urbane of the men), and the age difference required between him and Jack didn't look right, but nevertheless he played the part with great charm and skill.
Chris Learmonth captured the lighter side of Brendan, making nice play over not really being able to accept a drink, but doing so anyway. Though I felt he lacked a little rustic gravitas which perhaps a slightly older actor would have brought. Melissa Warne was very strong as Valerie, nicely under cutting the men's casual sexist patronising of her with her horrible story.
In short, this production was thoroughly engaging throughout, and nicely drew out the themes and captured the mood of this wonderful little chamber piece.
Richard Watkins - October 2005
Gallery
Reminiscences and Anecdotes
Members are encouraged to write about their experiences of working on or seeing this production. Please leave your name. Anonymous entries may be deleted.
See Also
Have there been other SLT productions of this play? Link to them here.
Or add anything that is related within this site. The author's page for instance or other plays with a similar theme.
References
External Links