The Servant of Two Masters (2018)
From sltarchive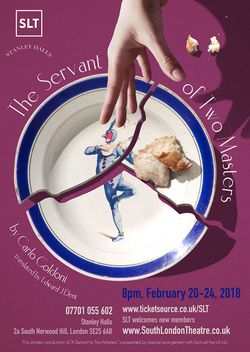 by Carlo Goldoni translated by Edward J Dent
Performances: Tue 20th – Sat 24th February 2018, Upper Hall, Stanley Halls
Introduction
Truffaldino is always hungry. He has arrived in Venice with his new master and can only think of one thing - his stomach. He somehow acquires a second master (two wages equals more food), and he must serve them both without the other finding out. But he's not that clever and his antics lead to one almighty mess!
The play is in the beautiful Italian town of Norwood Junction. It's exotic and definitely in Italy. If you think Norwood Junction isn't in Italy, you obviously aren't that well travelled.
Cast
Crew
Thanks
With thanks to: Mark Ireson, Kay Macdonald, Jess Osorio, Bryon Fear, Caroline & Emma, Nat for sourcing the ham, SLT Theatre Committee, FOH and Box Office.
Reviews
On opening night, we received a visit from Eric Richard, seen most recently in Christopher Nolan's BAFTA nominated film, 'Dunkirk', but perhaps best known for the role of Sergeant Crier of ITV's long-running series, 'The Bill'. Eric, (real name: Eric Smith) was celebrating the fiftieth anniversary of his first arrival at what was then The South London Theatre Centre. Eric had never acted before, even at school, so I think we can truly say that we were at least partly responsible for launching him on what has been a particularly successful acting career. Check out his page on this archive.
Gallery
Photos by Phil Gammon here
Reminiscences and Anecdotes
Members are encouraged to write about their experiences of working on or seeing this production. Please leave your name. Anonymous entries may be deleted.
See Also
References
External Links