The School for Scandal (1970)
From sltarchive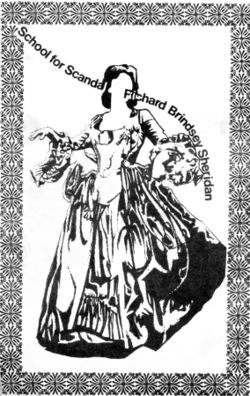 Directed by Roger Haines
Performances: Sun 3rd – Sat 9th May 1970, Theatre
Introduction
The play is set variously in the houses of Lady Sneerwell, Sir Peter Teale and Charles Surface.
There were two intervals of 15 minutes each.
Cast
Crew
Reviews
South London Theatre Centre is exactly two and a half years old. In all its history I can recall no more promising an opening than Roger Haines gives us in this week's production of "The School for Scandal".
Here we are in Sheridan's immortal gossip-shop, as realised in a simple and unfussy set designed by D'Auvergine Barnard, and graced by some really lovely costumes by Margaret Leech.
The scene is no more than a few speeches old before we sense we are in the hands of a producer who understands what Augustan comedy is all about.
Donald Magwick, The Croydon Advertiser 8th May 1970
Gallery
Reminiscences and Anecdotes
Members are encouraged to write about their experiences of working on or seeing this production. Please leave your name. Anonymous entries may be deleted.
See Also
Or add anything that is related within this site. The author's page for instance or other plays with a similar theme.
References
<references/>
External Links