The Ruffian on the Stair (2004)
From sltarchive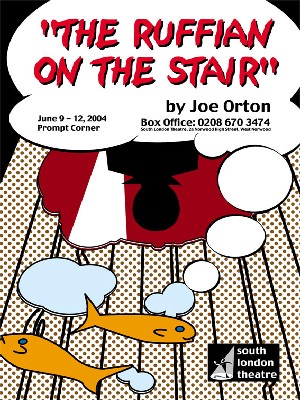 by Joe Orton
Directed by David Green
Performances: Wed 9th to Sat 12th June 2004, Prompt Corner
Introduction
Joe Orton's life has always fascinated me, with its combination of hedonism and horror. I wanted to direct "The Ruffian On The Stair" because of this. It's quite an intense play, is not that well known, and has the most fantastic opening lines! I have never seen an Orton production, so have only a vague idea of what it is to be "Ortonesque". I came to the piece without any preconceptions, so I'm not sure how my interpretation would fit with Orton's original intentions. I've tried to remain faithful to the script as much as possible.
The play is very funny at times, but not self-consciously so. The characters are all trapped in their own worlds, set on their own courses of destruction and self-destruction. They are on the verge of breaking apart - losing, or having lost, that which gives their lives meaning. Wilson is the most hopeful and idealistic, and therefore the most tragic, of the three. The play was re-written at a time when Orton's relationship with Kenneth Halliwell was disintegrating, and the characters could also represent aspects of Halliwell's character - the doting, downtrodden, shrewish housewife who's always eager to please; the pompous, possessive know-it-all always threatening violence; and the broken spirit whose life revolves around his lover, and who's lost without him.
This being an Orton play it's also about sex and the threat of youthful permissiveness, violation, repression, and illicit and guilty thrills. The morality of the characters is somewhat hypocritical, and there is a sexual tension between them which is rarely explicit. Nowadays, we can forget how shocking this play must have been in 1967, with its blatant homosexuality and incest. I like the Orton quote: "Sex is the only way to infuriate them. Much more f***ing and they'll be screaming hysterics in next to no time." I hope to retain an element of Orton's original aim.
Power is also an important theme, whether the characters realise they have it, and how they use what little power they've got. Murder is seen very much as a way of maintaining the status quo, rather than a catalyst for any spiritual rebirth or revelation.
Ultimately, this play is about the pain of existing in a world without love. <ref>Director's notes from the main SLT website</ref>
Cast
Crew
Reviews
Some review quotes go here
Gallery
Reminiscences and Anecdotes
Members are encouraged to write about their experiences of working on or seeing this production. Please leave your name. Anonymous entries may be deleted.
See Also
Have there been other SLT productions of this play? Link to them here.
Or add anything that is related within this site. The author's page for instance or other plays with a similar theme.
References
<references/>
External Links