The Prisoner of Second Avenue (1984)
From sltarchive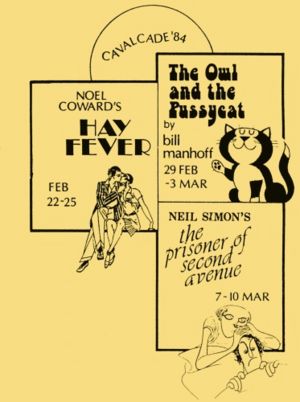 by Neil Simon
Directed by Ken Lucas
Performances: Weds 7th – Sat 10th March 1984, Bell Theatre
Introduction
Scene, apartment 14A, 88th Street and Second Avenue, New York's upper Eastside - home of Mel and Edna Edison.

Furniture was kindly supplied by Bromley Little Theatre and special property from the U.S. Armed Forces.
Cast
Crew
Reviews
The SLTC's Cavalcade of Comedy has reached its third and final week with another transatlantic offering, Neil Simon's 'Prisoner of Second Avenue.'
....Ken Lucas is the director, and he preserves a nice balance between the outward humour and inner anguish of the Edisons' unhappy situation. For this is no ordinary formula boulevard comedy, but a hardhitting examination of the pressures of unemployed existence in New York's urban jungle.
.....the anguish is all too real, but the finely paced, delicately nuanced performances of Colm O'Neill and Nikki Hogg keep the play rippling along on a steady tide of laughter. Not belly laughter, to be sure, and there is an uneasy tinge to it. But the lines are expertly crafted, and a characteristically Jewish humour runs though even the bleakest off exchanges.
Philip Piacentino is brother Harry, busy, managing, outwardly successful but living on a knife-edge of doubt.
The three sisters are all good cameo roles. Mikki Hewitt is Jessie, vapid and twittering. Alva Semple plays Pauline the fussy busybody who knows the value of a dollar and would prefer somebody else to spend it. Beverly Taylor completes the family group as Pearl, calm and complacent, leaving the details to Harry.
They make an animated group, but for a family their accents are somewhat inconsistant with words like "nervous" tending to vary from Brooklyn to Boston.
Donald Madgwick, as reprinted in SCENE by permission of the Croydon Advertiser.
Gallery
Reminiscences and Anecdotes
Members are encouraged to write about their experiences of working on or seeing this production. Please leave your name. Anonymous entries may be deleted.
See Also
Have there been other SLTC/SLT productions of this play? Link to them here.
Or add anything that is related within this site. The author's page for instance or other plays with a similar theme.
References
<references/>
External Links