The Owl and the Pussycat (1984)
From sltarchive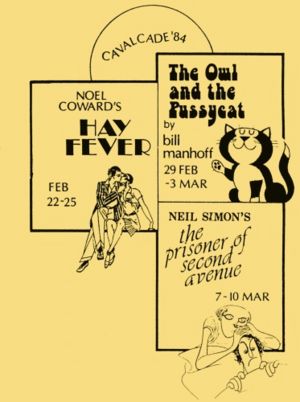 by Bill Manhoff
Directed by John Harris
Performances: Weds 29th February - Sat 3rd March 1984, Bell Theatre
Introduction
Text about the play
Cast
Crew
Reviews
"To watch Fred Ridgeway and Jilly Cowley at work at the SLTC's Bell theatre this week is to be seduced into forgetting what a burden two-handers throw onto the actors.
The empathy that flows between them in John Harris's beguiling production not only fulfills our highest expectations but actually exceeds them.
The Owl is F. (variously Felix and Fred) Sherman, a somewhat highbrow who writes pretentious, unmarketable stories.
The Pussycat is Doris W. (variously surnamed), a whore with a heart of gold who gets thrown out of her apartment building for marketing her own commodity only too efficiently.
The trouble with whores with hearts of gold is that they generally seem pretty sickly-sentimental. The trap is avoided here, since we view the story as an extravagant fairy tale running on high octane fuel. the energy is provided partly by the script which has its weaknesses, but mainly by the high quality of the acting.
About Fred Ridgeway's performance one can only say that he gets inside the character with uncanny understanding...
..Seven scenes later, events have run their course. the attraction of opposites has run aground. But the play fizzes to life once again in a bizarre third act mainly given a wildly surreal flavour that sets the seal on a brilliant partnership.
Jilly Cowley keeps sentimentality at bay with a hard-hitting portrayal founded on fantasy and game-play.
The moral of the play is in the final pages, when we indeed see that the comedy has been played to serious purpose."
Don Madgwick, as reprinted in SCENE by permission of the Croydon Advertiser.
Gallery
Reminiscences and Anecdotes
Members are encouraged to write about their experiences of working on or seeing this production. Please leave your name. Anonymous entries may be deleted.
See Also
The Owl and the Pussycat (1975)
Or add anything that is related within this site. The author's page for instance or other plays with a similar theme.
References