The Merchant of Venice (2011)
From sltarchive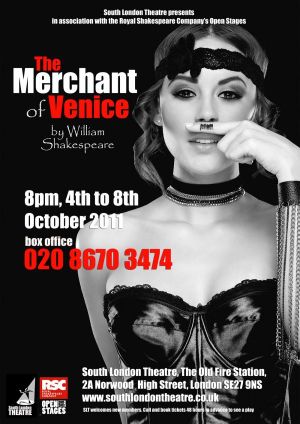 Performances: Tuesday 4 to Saturday 8 October 2011, Bell Theatre
Introduction
The world is at war. The Nazis have just entered Venice. The Ghetto is awash with rumour; entire families have disappeared overnight, shops are being closed down and it would appear that being a Jew is a dangerous business.
Seen through the eyes of Shealtiel, a young Jewish boy, the events of the play take place in the summer of 1943. As Bassanio attempts to pull off a deal that will enable him to flee Venice and the Nazis, Antonio puts up his body as surety to raise the capital, becoming indebted to his old enemy, Shylock. When Antonio's ships are torpedoed and he cannot repay the loan, Shylock calls on the merchant to give his pound of flesh...
The idea for the play first came to me 8 years ago, seeing Ute Lemper in concert. Her performance of The Lavender Song (Das Lila Lied, a cabaret song written in 1920 with lyrics by Kurt Schwabachand music by Mischa Spoliansky) brought the house to its feet. Whenshe explained that originally the lyric 'queer and different' would have encompassed not just gay men and lesbians, but other racial and social groups endangered by the rise of the far right, it set my mind ticking. Merchant was born. In this production the song is sung by a gay man, a lesbian, a Sinti Gypsy and a Jewish boy.
Setting The Merchant of Venice (2011) in Nazi occupied Italy gave the perfect setting to Shakespeare's tragi-comedy. The parallels between Elizabethan England, where it was illegal to practice Judaism and mid-war Italy where the horrors of the Holocaust were beginning to emerge are unique and poignant. The love story of Bassanio and Antonio fitted into this mix perfectly.
It's been a privilege working with such a talented and dedicated mix of actors and crew. And working online payday loans with the RSC has been fantastic. It's been a powerful and moving experience for all of us.
Cast
Children of the Ghetto, servants and maids: Raffaella Patmore, Nina Glover, Grace Quigley, Katie Patrick, Katie Balme, Leah Girma
Crew

With thanks to: Val Williams, Jeanette Hoile, Ian Wainwright for the RSC, Mark Bullock, the cast and crew of Breathing Corpses, the staff at The Hope and everybody who has contributed time and energy to this show.
The production is dedicated to the loving memory of Maggie Checkley, a good friend who gave those without a voice a song of their own to sing. The children miss you.
Reviews
Some review quotes go here
Gallery
Reminiscences and Anecdotes
Members are encouraged to write about their experiences of working on or seeing this production. Please leave your name. Anonymous entries may be deleted.
See Also
Have there been other SLT productions of this play? Link to them here.
Or add anything that is related within this site. The author's page for instance or other plays with a similar theme.
References
<references/>
External Links