The Little Foxes (2007)
From sltarchive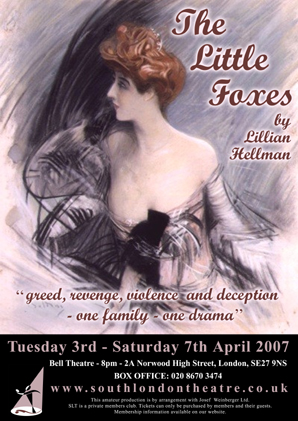 Directed by Jenny Gammon
Performances: Tue 20th – Sat 24th April 2007, Bell Theatre
Introduction
A cynical play of family greed and revenge not unlike a Greek classical tragedy. Set in the 1900s, the wealthy Hubbard family steal, deceive and plot against each other in their efforts to invest in one of the first cotton mills to industrialize the Deep American South - a plan which will make them millions of dollars. Regina takes dramatic revenge on her sick husband when he obstructs her from taking part in her brothers' investment. Their daughter, Alexandra, is too young to defy their plans and neither can Aunt Birdie, who drinks to anaesthetize the pain of having married a bully and having lost her own family's plantation to the rapacious Hubbards.
The satiric element of the play consists of its condemnation of the family's crimes against society. Their ancestors attained wealth by overcharging newly freed slaves and now the Hubbards will create a larger dynasty on the toil of poor workers, who will flock to the cotton mill for its paltry wages.
Cast
Crew
Thanks must go to, for all their help and co-operation, the Youth Group Directors and their cast and crew and to Jack King and the Crazy Gary boys; to Neil Carmichael, Mike Elliott and Katie Franson (for her help in rehearsal and vocal coaching), Jeanette Hoile, Lauri Morgan and to Simon at the Railway,
Reviews
Some review quotes go here
Gallery
Reminiscences and Anecdotes
Members are encouraged to write about their experiences of working on or seeing this production. Please leave your name. Anonymous entries may be deleted.
See Also
Have there been other SLT productions of this play? Link to them here.
Or add anything that is related within this site. The author's page for instance or other plays with a similar theme.
References
External Links