The Last Day of November (1983)
From sltarchive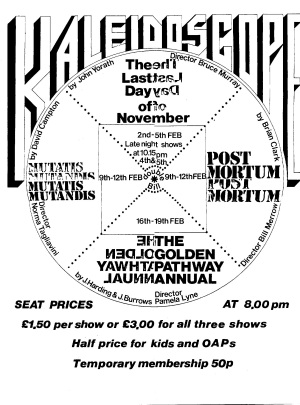 by John Yorath
Designed & Directed by Bruce Murray
Performances: Weds 2nd - Sat 5th February (late night shows on 4th & 5th) 1983, Main Stage
Introduction
This play following the history of the Crystal Palace from its conception to it burning down on "the last day of November" 1936 was initially written by John Yorath to be performed by children...
In the SLTC version adults and children played the roles, each actor perfoming several characters.
Three projector screens were used for slides of the construction & events during the show and the centre screen showed a cine film of the fire that consumed the palace in 1936.
Cast
and
Crew
Archive Material
ILN, The Patrick Beaver Collection, M.Gilbert, Upper Norwood Library.
Projections
Ivor Mitchell, MRO, Southwark Teachers Centre, Geoff Goode.
Poster Design - Michael Gilbert
Fire Equipment loaned by The London Fire Brigade - Camera loaned by Vintage Cameras Ltd - Penny-farthing bicycle loaned by Mr Bowtle of SE24.
Film extract courtesy of Columbia/EMI and The London Fire Brigade.
Reviews
Some review quotes go here
Gallery
Photos from our production which was also performed in The Questors Studio Theatre later the same year
Reminiscences and Anecdotes
Members are encouraged to write about their experiences of working on or seeing this production. Please leave your name. Anonymous entries may be deleted.
See Also
See also The Last Day Of November (1984)
This version was taken to the Studio Theatre at the Questors Theatre, Ealing.
References
<references/>
External Links