New Directors' Showcase (2004)
From sltarchive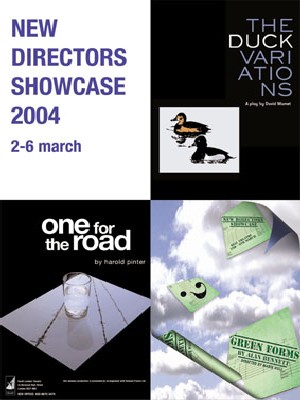 Performances: Tue 2nd to Sat 6th March 2004, Bell Theatre
The New Directors' Showcase featured three very different pieces by some of the most talented and respected playwrights of recent years.
One For The Road
Directed by David Lomas
Introduction
"One For The Road" is short, sharp and disturbing - a pitch-black fantasy of power abuse within a carefully unnamed police state. It seems to have important echoes of real life situations from many countries and eras, from modern day Iraq to Soviet Russia, from Apartheid South Africa to Belfast. An all-powerful interrogator, who claims to talk on behalf of God and who knows personally the man who runs the country, interviews in turn a young husband and wife and their seven-year old son who are held as helpless prisoners within the system. The play is intensely dramatic and written with extraordinary power.
Harold Pinter was inspired to create it in a state of white hot indignation in the mid 80s, after meeting at a party "two extremely attractive and intelligent young Turkish women, who seemed casually indifferent to the use of torture in their country, and the pain and anger are all too evident. Yes, it is upsetting at times, but it's also a timeless and very persuasive condemnation of human rights abuses and an exciting challenge for both its actors and its director."
Cast
The Duck Variations
By David Mamet
Directed by Emma Connolly
Introduction
On a park bench, overlooking a lake, two elderly gentlemen discuss the matters of life, death and ducks in the form of 14 variations. Their hilarious discourse is framed by the universal scene of two people setting the world to rights with all the odd twists and turns a conversation may take.
This lovely little divertissement depicts these two gentlemen as cyphers and yet... They are something more and something less than two old men. We know very little about them but that of which they represent. Waiting for Godot or Waiting for God? The never-ending chase for that elusive duck, that elusive something. Not forgetting this is an incredibly funny play and beautifully deconstructs the notion of what is theatre, how a play should be written.
Cast
Gallery
Green Forms
By Alan Bennett
Directed by Marie Hull
Introduction
Set in a time before the computer completely took over the workplace. The more paper you have the more efficient and busy you are. The world of downsizing and rationalisation is about to rear its ugly head in a little office somewhere in North Yorkshire.
Doris and Doreen are comfortably installed in an obscure department of a large organisation. It is a cushy little number: on a normal day the girls keep busy by flirting with nice Mr Titmuss in Appointments or pursuing their bitter feud (over a wash-basin plug) with Mr Cunliffe in Personnel. Work is nowhere. However, this is not a normal day and slowly Doris and Doreen realise that someone elsewhere in the organisation has his (or her) eye on them. A shadow falls across their tranquil lives. Is it redundancy?
Who is Dorothy Binns? Can the Union help?
Cast
Crew for all three plays
One For The Road
The Duck Variations
Special thanks to: Steve Marchant, Panni Davidhazy, Jenny Gammon, Shirley Heath, Elaine Heath, Robert Cooke, Elinor Morgan-Jones, Jack King, Anton Krause, Lisa Marsh, Beth Smith, Dee Fancett, Estelle Burfoot Reed, Mark Samuels, Alan Buckman, Tim Hinchliffe, Mark Bullock and Samuel French Ltd.
Green Forms
Thank you to Jack King for lessons in the art of delegation.
Reviews
Some review quotes go here
Gallery
Reminiscences and Anecdotes
Members are encouraged to write about their experiences of working on or seeing this production. Please leave your name. Anonymous entries may be deleted.
See Also
References
External Links