New Directors' Showcase: 'Remainders' (2007)
From sltarchive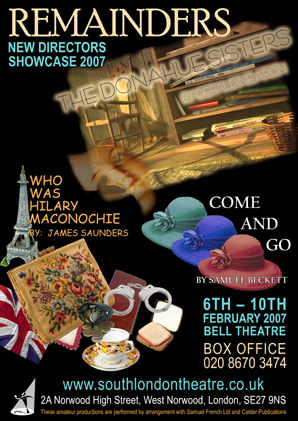 Performances: Tue 6th – Sat 10th February 2007, Bell Theatre
The New Directors' Showcase featured 3 one-act productions, all linked by themes of memory and loss.
The Donahue Sisters
Assistant Director Paula Kelly
Voice Coach Gemma Poole
Introduction
Reunited in the attic of the family home in rural Ireland because of their father's illness, the three sisters talk about their lives long into the night. Talk about their men, children and their disillusionment gives way to the ritual re-enactment of a chilling incident from their childhood. Innocence is mixed with poison in this hilarious and macabre modern horror story.
Cast
Come and Go
PA David Lomas
Costumes Val Williams
Introduction
Samuel Beckett is one of the 20th century's most brilliant playwrights. He proved many times that a few words could convey a great deal, with the pauses conveying even more. In this brief but pithy piece, three women reminisce about old school days. As time goes on, we learn more about each woman. A succinct, significant and satisfying piece to perform and watch.
Cast
Who was Hilary Maconochie?
PA - Michelle Thomson
Introduction
A very clever, surreal piece by the playwright whose work inspired Tom Stoppard. The stately Mrs Drudge is visited by her close friend Mrs Brute. Sundry revelations ensue, often clarified and corrected by Hilda the Maid, who cuts through the confusion like a knife, and expounds on her own past affairs and grievances throughout. It reflects on the fickleness of memory and the final futility of our lives and loves.
Cast
Crew for all three plays
Thanks to Mo and all the staff at Lancasters.
Reviews
Some review quotes go here
Gallery
Reminiscences and Anecdotes
Members are encouraged to write about their experiences of working on or seeing this production. Please leave your name. Anonymous entries may be deleted.
See Also
Have there been other SLTC/SLT productions of these plays? Link to them here.
Or add anything that is related within this site. The author's page for instance or other plays with a similar theme.
References
External Links