The Birthday Party (2009)
From sltarchive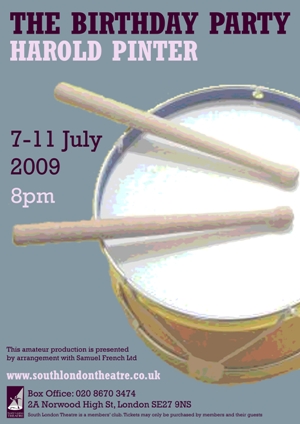 Directed by Lisa Thomas
Performances: Tue 7th – Sat 11th July 2009, Prompt Corner
Introduction
The Birthday Party is about Stanley Webber, an erstwhile piano player in his 30s, who lives in a rundown boarding house, run by Meg and Petey Boles, in an English seaside town, "probably on the south coast, not too far from London".<ref name=Naismith>Harold Pinter, Faber Critical Guides (London: Faber and Faber, 2000) 57: The setting evokes "Basingstoke and Maidenhead, southern towns ... and ... London — in both Goldberg and Stanley's reminiscences."</ref><ref name=audio>Audio interview with Harold Pinter, conducted by Rebecca Jones, bbc.co.uk/today 12 May 2008, accessed 14 May 2008.</ref> Two sinister strangers, Goldberg and McCann, who arrive purportedly on his birthday and who appear to have come looking for him, turn Stanley's apparently-innocuous birthday party organized by Meg into a nightmare.<ref name=SW/><ref name=French>The Birthday Party synopsis, in Samuel French Basic Catalog, rpt. in samuelfrench.com ("Little Theatre"), accessed 10 May 2008.</ref>
Cast
Crew
Many thanks to: the cast and crew; Alan Buckman; Jenny Clements (for fried bread); Alleyn's School for rehearsal space; Alan, Zara and Mary Thomas.
Reviews
Jason
Congratulations to Lisa, her cast and crew on their rendition of Pinter's The Birthday Party.
I thoroughly enjoyed seeing it on the stage for the first time and recommend it to all.
She has a good cast. I enjoyed all the performances. Simon Holland I think was at his best when, erm, 'under pressure'. Carole Coyne gave the best performance I have seen from her. John Lyne and Louisa Evans both delivered their more modest-sized roles with clarity.
Ian O'Brien as McCann and David Love as Goldberg (both debuts?) were splendidly menacing as the mysterious duo.
And you know what? I suspect this production will get even stronger and crisper as the week goes on.

David Lomas
I also really enjoyed the show last night - the only regrettable element was the shamefully tiny audience!
Please people - come and support Lisa and her very able cast who deserve so much better. Great set as well I thought.
And as well as being dark and unsettling this is also a hilariously daffy play at times I think...

Lionel
Absolutely BRILLIANT! Congratulations to Lisa and Cast and Crew. Don't miss this, whatever you do.

Michael Wilson
Couldn't agree more. Pure vintage Pinter - funny, menacing and utterly incomprehensible. Brilliant performances from all the cast, excellent direction, wonderfully dowdy set (nice work Dave). Congratulations to all. Not to be missed!

ChrisVS
Definitely a show to see.
Obviously, being Pinter (and early Pinter at that) I hadn't a clue what it was about.
There were some very watchable performances in this. I would say this is the best performance I have seen from Carole. As to the two visitors.... two incredibly different and well-portrayed characters and both deliciously sinister in their own different ways.
Go and see this play...... or "they" will come and get you......

Jon C
(by text). Great show tonight. Perfect cast. Well done.

Mark Bullock
I saw this last night and really enjoyed everything about it.
All the cast are on form and really working for each other. I especially liked the Actor playing Goldberg very funny and at times disturbingly odd. But then I can't remember a character in this play that isn't slightly strange. Well maybe John Lyne's character was the only one that seemd rather Natural. The he had to be slightly odd to marry the very odd wife. lol
The pace of the piece really keeps you hooked as the tension builds throughout the 3 acts, and found myself wanting to get straight back after each act.
The set is well realised and the small things like attention to detail in the Kitchen and Stairwell were really great.
The lighting was really subtle and worked well especially at night during the party scene.
I loved the sound as well as it complimented the piece and made it all rather disturbing.
Anyways there's two nights left so if you're not sunning yourself on a Spanish beach then there's no excuse not to see it before it ends.
Markie
Gallery
Please see Phil Gammon's photos for the production at http://www.photos.sltarchive.co.uk/thumbnails.php?album=62
Reminiscences and Anecdotes
Members are encouraged to write about their experiences of working on or seeing this production. Please leave your name. Anonymous entries may be deleted.
See Also
References
<references/>
External Links