The Beguiled (2008)
From sltarchive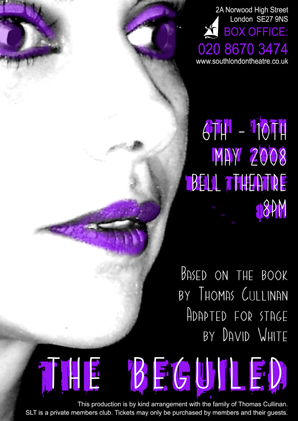 based on the novel by Thomas Cullinan adapted for the stage by David White
Directed by Maria Bates
Performances: Tuesday 6th - Saturday 10th May 2008, Bell Theatre
Introduction
Gothic, creepy, tense, erotic, gory and murderous!
A wounded union soldier is discovered by a young student from a nearby girl's school, during the American civil war. He finds refuge in the school of haunted women, behind confederate lines, with only his wit and a way with women to try and see him through. John McBurney struggles to survive. But the ladies of Farnsworth Academy are strange creatures and behind their Southern charm lies something else...Something Evil.
Cast
Crew
Reviews
'David White's adaptation of the Beguiled manages to create a natural eerie quality whilst utilising the medium of live theatre'.
Chloe Austin - www.fringereview.co.uk (2007)
Gallery
Photos by [[]]
External Links