Swive (Elizabeth) (2021)
From sltarchive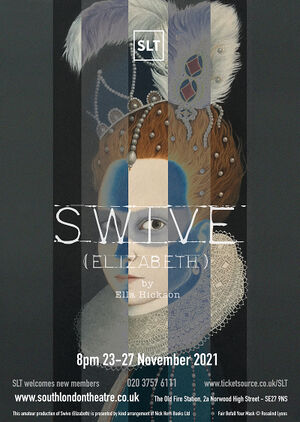 by Ella Hickson
Performances: Tuesday 23 to Saturday 27 November 2021, Old Fire Station
Introduction
Elizabeth I is the only unmarried woman to have ever ruled England, reigning for 44 years. The daughter of Henry VIII's ill-fated second wife Anne Boleyn, she was a political mastermind with powerful survival instincts.
Created by award-winning writer Ella Hickson and director Natalie Abrahami, Swive (Elizabeth) premiered at the Sam Wanamaker playhouse at Shakespeare's Globe in 2019. It shines a light on the ways and means by which women in power negotiate patriarchal pressure in order to get their way. Elizabeth was a prime example of a leader determined but struggling to live and rule as she wanted, and the women around her were also tied down by the male prejudices and rigid social, religious and cultural traditions of their time.
This isn't intended to be a history play - though it presents contemporary issues through an historical prism, events depicted in Elizabeth's life, although real, aren't always strictly chronologically accurate. Though there are some quotations taken from historical records, the language is modern, and this is also reflected in my choice of some of the music. Various modern historians have helped us with their insights into the life and times of Elizabeth, which have informed our play and inspired our fascination with this amazing queen and her contemporaries.
Cast
Crew
Reviews
If you haven't seen Swive, then what are you doing? The acting from the whole cast is brilliant.
Elizabeth 1 - what a power house!
History buff? Get a ticket.
Period costume lover? Get a ticket.
Fan of kick ass women? Get a ticket.
I've been sat at home reading about the real life characters since I came in the door.
Jo Boniface

It's time to Swive! Fabulous, flawless performances from the whole cast. Elizabeth I: National Treasure in today's parlance? Discuss (preferably in the SLT Bar afterwards). There are candles, lovely staging, costumes, treason, treachery, ambition, humour solace, modern language and two Toms. What's not to love? Get to the Box Office!
David Carr

Well, there is a lot of fuss about Swive, and for good reason! A unique and interesting play that had me listening and laughing, and that has been set (special mention Mark Ireson) and performed beautifully. Congratulations to Caroline Beckett and all the Swivers for a fabulous show. This felt like a bit of an unusual production for SLT to me for a few reasons....you don't want to miss this one.
Kim Goldsmith

Well done team SWIVE. Classy! Fierce! And not a hey nonny no in sight. Have a great rest of the run.
And I hope you manage to get an audience that doesn't keep kicking over their drinks .... What is it with you lot?? Forget you have feet ?!!!! XXX
Charlotte Benstead

Swive was visually stunning, I really enjoyed the simple but effective staging and the costumes really speak for themselves.
Strong performances all round, shout out to the washerwoman! Sarah Pearcey had me giggling to myself a lot.
Do go and see, it's a good evening out and you don't get a numb bum!
Siobhán Campbell

Great first night for Swive. Atmospheric lighting and great performances.
Go see.
Barry Heselden

Fabulous first night of Swive! Beautiful staging, costumes and some brilliant performances. Grab yourself a ticket as this really does deserve to sell out! Well done Caroline Beckett and everyone involved in this rich, powerful, funny and well acted production.
Greg Williams

Congratulations Team Swive! What a perfect cast and a terrific staging. Lovely production week across the board. Do book for the rest of this week!
Will Howells

What amazing times at the SLT, I'm so lucky to have been welcomed by you wonderful people.
Congratulations to Caroline Beckett for such a lush and tasteful production of SWIVE.
Get down there peeps, you're in for a treat!
Phil Ross

Echoing other's comments on the wonderful 'Swive'...lovely performances and whole atmospheric production brought this interesting take on a 'well known' part of history beautifully to life!
Well done Caroline Beckett and all the company!!!
Hayley Thomas

If you haven't seen Swive yet, then you are missing out. It is worth it for the hair and costumes alone, but add to that a great script, marvellous acting and and an atmospheric setting and you have SLT at its very best. You can do "Strictly" on catch up, but tonight is your last chance for this show.
Gareth Milton
Gallery
Thanks
My sincere thanks go to all those wonderful individuals listed above, whose hard work and creativity behind the scenes have made this production possible and the best it could be. Thanks also to the National Theatre Costume Hire team, to Putney Arts for the gift of two enormous hanging black tabs, and to the Picnic team for help with the get-in. As always, we greatly appreciate our dedicated team of front of house, box office and behind the bar team. And last but very much not least, thank you to my fabulous cast and crew whose enthusiasm, sense of fun and dedication have made this production a sheer joy to direct.
Reminiscences and Anecdotes
Members are encouraged to write about their experiences of working on or seeing this production. Please leave your name. Anonymous entries may be deleted.
See Also
Have there been other SLT productions of this play? Link to them here.
Or add anything that is related within this site. The author's page for instance or other plays with a similar theme.
References
External Links