Sweeney Todd: The Demon Barber of Fleet Street (2019)
From sltarchive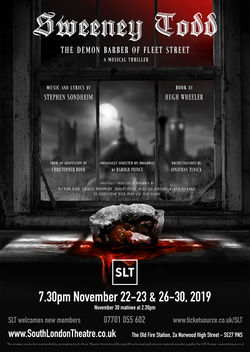 by Stephen Sondheim & Hugh Wheeler
Directed & Designed by Lee Ridgeway Musical Director - Alan Walker
Performances: Fri 22nd & Sat 23rd and Tue 26th - Sat 30th November 2019 Matinees on 23rd and 30th, Old Fire Station
Introduction
A musical tragedy of the revenge of a barber badly mistreated by almost everyone. The action takes place in Victorian London.
Cast
Band
Crew
Thanks
To our Theatre Rep., Mat Hill, The Hope pub and the crew and cast of How to Disappear....!. We'd also like to thank the front of house, box office and bar staff for supporting our production.
Reviews
Some review quotes go here
Gallery
Reminiscences and Anecdotes
Members are encouraged to write about their experiences of working on or seeing this production. Please leave your name. Anonymous entries may be deleted.
See Also
Sweeney Todd the Barber (1977)
References
External Links