Skirmishes (1984)
From sltarchive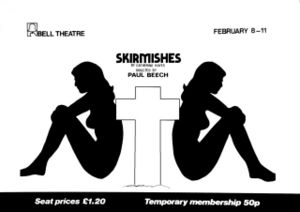 Directed by Paul Beech
Performances: Weds 8th – Sat 11th February 1984, Bell Theatre
Introduction
Text about the play
Cast
Crew
Reviews
From Don Madgwick in the Croydon Advertiser, reprinted in SCENE with permission.
"Skirmishes" is by the Liverpool playwright Catherine Hayes, and the first thing to say is that the play is vibrant with truth.
The second thing is that Paul Beech's production is riveting from first to last. Seldom is a single word wasted, and the understanding between the two actresses is wholly admirable, each reacting to every change of mood of the other.
One thing that causes me some uneasiness is that the accents of the two sisters are unlike as chalk and cheese. The fact that Rita has been away for years would hardly account for her north country tones against Jean's standard English.
Any misgivings on this score are dispelled by the sensitivity of the acting. Eileen Bicarregui (Coan) is Rita, selfish, wrapped up in her own family like a fish out of water in the presence of age and sickness.
Ann Walker is Jean, the one who has nursed her mother through the whole unedifying ordeal. Her own marriage on the rocks, childless and embittered, she yet manages to squeeze a kind of bleak humour out of the situation. In spite of the theme, the evening is actually almost as funny as it is sad.
Pam Lyne plays the dying mother. With only a few words to speak she gives a totally compelling performance. It is all too easy to believe that she is really dying before our very eyes. Here is acting of a high order. They also serve who only lie and waste.
Gallery
Photos by Charlie Cheetham?
Reminiscences and Anecdotes
Members are encouraged to write about their experiences of working on or seeing this production. Please leave your name. Anonymous entries may be deleted.
See Also
Have there been other SLTC/SLT productions of this play? Link to them here.
Or add anything that is related within this site. The author's page for instance or other plays with a similar theme.
References
<references/>
External Links