Singles (2012)
From sltarchive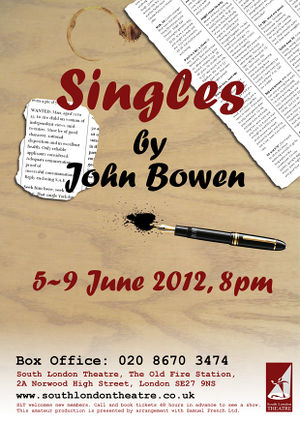 by John Bowen
Performances: 8pm, Tue 5th – Sat 9th June 2012, Bell Theatre
Introduction
Miss Sophie Baines is a woman who knows exactly what she wants 'I want a child. I intend to have one. I do not want a husband.' Sex itself is a 'disagreeable preliminary'. 'Singles' follows Sophie's somewhat unconventional efforts to conceive despite her family's disapproval, complications with the donor and interference from the window cleaner. A moving, naturalistic comedy
Cast
Crew
Thanks:
There are a lot of people who I have to thank for their help, advice, distractions and general support as a matter of fact: my amazingly nice and hard-working cast and crew; Kay George, who, although (she) couldn't be with us for the show, was invaluable in the lead up to it; Catherine Ellis; Alan Buckman; Hazel Hindle and Nancy Reid; Lisa Thomas; Chaz Doyle; Jacqui Osmond; Matthew Lyne and the bar staff; Jeanette Hoile and the FoH/Raffle Team; Jess Osorio and Box Office; Theatre Committee for letting me have another go; Michelle Thomson; Carole Coyne, our rep; Nick and everyone at The Park; the casts and crews of The Deep Blue Sea, A Walk in the Woods and The White Devil; David Hawkins; Caroline Doyle; Daniel Kelly; Tiffaney Lashley; Siobhan Campbell; Fiona Thomas (DT) and finally, Bob Urquhart for the idea, the inspiration and the lettuce thingy.
Reviews
Some review quotes go here
Gallery
Reminiscences and Anecdotes
Members are encouraged to write about their experiences of working on or seeing this production. Please leave your name. Anonymous entries may be deleted.
See Also
Have there been other SLT productions of this play? Link to them here.
Or add anything that is related within this site. The author's page for instance or other plays with a similar theme.
References
<references/>
External Links
Edit Categories below - Bell or Prompt AND THEN REMOVE THIS MESSAGE!