She Ventures and He Wins (2019)
From sltarchive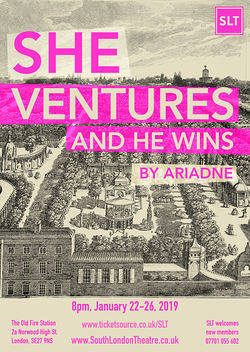 by Ariadne
Performances: Tue 22nd – Sat 26th January 2019, Old Fire Station
Introduction
London, 1696.
St James' Park bustles with the fine, and the not-so-fine, folk of London town on a warm Saturday morning. Charlotte and Juliana scavenge for boys' clothes, trying to avoid the attention of Charlotte's older brother Charles and his good friend Sir Roger. Cousin Bella arrives in London, with little idea of the adventures that lie ahead, and Lovewell finds his poetry is particularly bad today. Meanwhile, tavern owner Freeman and his wife Urania prepare for the weekend, ably helped by their maid, Doll. Wouldbe continues his imprudent wooing of Urania, whilst dodging his wife, Dowdy and mother-in-law, Bedlam. And of course, our musicians find ways to profit from all the plotting.
Cast
Crew
Reviews
From the SLT Facebook group
"She ventures and he wins" is a really splendid inclusion in the current season. Many congratulations to Bex Law on her assured witty direction, and to the entire cast - a glorious mixture of stalwarts and newer members. Special mentions to Owen Chidlaw, Adam Crook and the very tuneful company for the wonderful music, and Filippa Arnstad Sebom for giving an object lesson in the theatrical truism "there is no such thing as a small part" !
Audrey Lindsay
She Ventures, He Wins was lovely. A great show about love and lust which serves as a reminder that not all that much has changed about our sense of humour in the last few hundred years. It's great to see a rarely performed and historical piece of theatre that truly stands the test of time.
Mitchell Labiak
I had a blast last night: a feast for the eyes and the ears, funny, touching, silly and full of beautifully-formed performances. Well done
Jenny McLaughlin
First night of She Ventures, Go and see, great fun, excellent choreography and music. Ok, so not my usual thing but I thoroughly enjoyed Bex's production. Great performances by the entire cast but I have to mention David Angland totally engaging performance as Lovewell, Ross McKenzie what can I say… without giving too much away, just sit back and enjoy.
Barry Heselden
Great fun evening with lots of laughs and gasps. Fascinating use of the space too - there are at least 6 entrances
Carole Coyne
Gallery
Reminiscences and Anecdotes
Members are encouraged to write about their experiences of working on or seeing this production. Please leave your name. Anonymous entries may be deleted.
See Also
Have there been other SLT productions of this play? Link to them here.
Or add anything that is related within this site. The author's page for instance or other plays with a similar theme.
References
External Links