Serjeant Musgrave's Dance (2006)
From sltarchive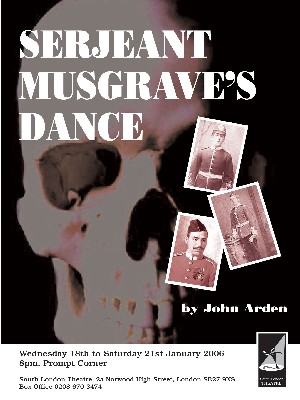 by John Arden
Directed by Lisa Thomas
Performances: Wed 18th – Sat 21st January 2006, Prompt Corner
Introduction
The Serjeant and three of his men arrive in a northern mining town with a sinister cargo. Deserters from a late-Victorian colonial war, they pose as recruiters, while the townspeople believe they will be strike-breakers. But Serjeant Musgrave has a much darker purpose, to make the town face the terrifying reality of war, and implicate them in the bloodshed...
First performed in 1959 at the Royal Court Theatre, John Arden's "un-historical parable" still has much to say about the reality of war and what it does to the men who fight it. Written in a richly poetic style, the play is a classic piece of political theatre with a great range of characters and a truly gut-wrenching twist in the penultimate scene.
Cast
Crew
Many thanks to: Baptys for the Gatling gun; Lancasters, Ego, St Luke's Church for rehearsal space, Mark Pullin for help with music.
Reviews
Chris Learmonth I saw this production last night in a bare bones Prompt stage.
I must admit that I had no idea what the play was about before it started, and as a result took me a very long time to get to grips with the story. In fact, not until the second half did the play come alive and (for me) begin to make sense when all is revealed.
The play could probably have done with a bit of editing to cut out some of the superfluous scenes and keep the focus on the soldiers 'mission'. The heavy Northern accents didn't help much as I missed the point of quite a few of the early scenes whilst my ears were adjusting, which was a bit frustrating
It's still work seeing though, especially for Pauls Gibbons sweet singing, Simon Hollands descent into madness, and Chris Bennett portrayal of an honest man who believes he's doing right by his 'mission', but has ultimately lost grip of reality! I also enjoyed David McDonald's character, whose confrontational scenes always created some great dramatic tension (though I was disappointed his character didn't feature more towards the end).
Sorry this ain't much of a review, but I wanted to post something now, especially as there's only 2 nights of the run left.
Paul Hurley Judging by the conversations in the bar after Friday's show, most of the audience definitely seemed to 'get' this production, although admittedly the play may not be the easiest to digest. However, I thought it a success both in terms of production and play.
The production was kept simple and fluid and was very well stage-managed. It showed how simple props - the movie star, the cross etc - can create perfectly the time and place. I thought the setting of the town was strongly conveyed, as well as the locales within it. I really felt I was alternately in a bar, cemetery, town square etc. It also benefits from a standout central performance with some very strong and committed support- lots of nice humorous moments, and every single actor had a clearly defined character.
As for the play: yes it is dense, but I can see why it sticks with certain people (and was until recently studied at A -level). It's mysterious, sometimes baffling, and definitely bizarre, but I think Arden employs a good deal of skill in building and building the audience's interest before paying off with a terrific second half.
Well done to all concerned: given the difficulties of casting, having to be out all the time in rehearsal and only getting into prompt on Sunday, it actually seemed a lot smoother than other plays I have seen in the space. I for one am very glad I saw it.
So: neglected classic or dated bore? The more I think about it the more I think it's the former. Discuss.
Brian Fretwell I had no problems with the accents either, but my attention drifted in Act 3 (after the interval) due to worrying about in-line beer cooler in the bar and how to contact Fullers to get mended. So sorry to the cast if I looked distant.
Emma Hillman please don't leave the review thread with this..all that hard work..only to play second fiddle to a beer pipe....oh god - the embarrassment and shame...
Jason Congratulations to all on bringing this challenging piece to life. The highlight for me was the intensity of atmosphere generated throughout - whatever the scene, it seemed to be taking place in a cauldron bubbling with tension and possibility. Every character seemed to have an agenda which automatically brought them into conflict with someone else. Law and order was fragile. Anything could happen.
The locations were convincing – a tribute both to the clever and economical use of props, and to the quality of the performances. Lighting and sound added nicely to the claustrophobic atmosphere. The feeling of isolation, in a nameless northern town relatively cut off from wider civilization was clearly conveyed.
It would be invidious to pick out any particular performances for special mention – suffice it to say that all were clearly defined and helped the audience through Arden's intricate and involved use of language. A lot of hard work had evidently been put in. Instead, perhaps I may mention some specific elements of performance which stick in the mind (in order of appearance) – Simon Holland's (Private Hurst) gaunt intensity, Chris Bennett's (Serjeant Musgrave) authority, Emma Hillman's (Mrs Hitchcock) world weariness, Angela Barnes's (Annie) vitality, Bob Callender's (Mayor) pomposity, David Lomas's (Slow collier) vulnerability.
The play itself was new to me, and so I didn't know what to expect. I quickly found myself thinking in terms of Pinter (it's contemporary with The Caretaker for instance) and seeing the action in terms of a kind of limbo. When asked afterwards what the play was about (by a cast member!) I found myself saying 'well it seemed to be about a bunch of blokes who are on a mission and another bunch of blokes who…etc etc'. With little 'verification' or explanation of what has happened before we join the action, coupled with Arden's dense use of words, the audience is really challenged. In addition, because Arden has chosen to save the revelation of the precise nature of Musgrave's 'mission' to the end, it is difficult to comprehend fully why his acolytes are following him. It also adds to the sense some viewers seemed to have of an overlong set-up section. (In addition, I wonder whether the difficulties for his original audiences which Arden now identifies, still actually do exist for the contemporary audience. See the following post for details.)
The play brought to mind a couple of parallels:- Pinter (power struggles, uncertainty of motive) and Hamlet (a central character who's 'bereaved' and obsessed with a mission because of it, increasingly violent events occurring in an isolated place, the ultimate resolution involving the arrival of outside forces to restore order and 'normality'). It also resonates in current times with British soldiers sent to Iraq in controversial circumstances.
But for me the most interesting (and concerning) theme which Arden explores is that of 'sheep mentality' – in this instance of the two men who sign up for service. I was surprised that this was not underscored by Arden casting more colliers or giving us more of a sense of them signing up in droves. The other consequence of this is that it robs the Musgrave character of a manifest 'group mentality' to rage against at the denouement.
Overall, Serjeant Musgrave's Dance is a really grown up and challenging piece to present, and I thought you all did an admirable job in pulling it off. And thank you for exposing me to a piece which I (and others, I presume) would otherwise have probably never got round to reading or seeing – a compelling argument if ever there was one for SLT to continue to encourage a truly varied programme.
Jack King I studied this play at Uni (admittedly many moons ago now)so perhaps had an advantage over those punters who were setting eyes on it for the first time in terms of getting to grips with things early on. Its a long sprawling piece and a huge undertaking in a space like prompt but I think Lisa did an excellent job given the many problems she had to overcome.
I loved the atmosphere, a brooding sense of something inevitable and characters moving helplessly towards destinies over which they had no control. It was lyrical, comical and macabre in turn shot through with an element of Victorian Melodrama.
Settings were extremely evocative with some lovely lighting touches and a nice use of the playing space. (I was in the cheap seats at the back and did miss some of the action as some of the cast were hidden by the wall at one point but that will teach me to dawdle in the bar.)
There was a nice ensemble feel to the acting. I won't name names other than to say big congrats to Chris as Musgrave which he played with an authoritative menace which I thought was spot on, but plaudits to all involved.
Gallery
Please see Phil Gammon's wonderful pix on [1]
Reminiscences and Anecdotes
The star of the show (apart from Chris Bennett) may well have been the Gatling gun which allegedly appeared in Carry on up the Khyber (1968). We sadly (but probably more accurately) had it minus the gramophone.
See Also
Have there been other SLT productions of this play? Link to them here.
Or add anything that is related within this site. The author's page for instance or other plays with a similar theme.
References
External Links