Round and Round the Garden (2009)
From sltarchive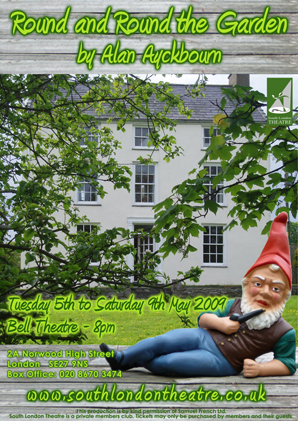 by Alan Ayckbourn,
Directed by Steve Imrie
Performances: 5th to 9th May 2009 Bell Theatre
Introduction
Round and Round the Garden is the final part of the 1974 trilogy The Norman Conquests. Each play depicts the same three couples over one weekend, giving a different perspective of the same story, in a change of venue, but they can be performed (and appreciated) individually.
Norman has come to his sister-in-law's for a wicked weekend away, but he doesn't bank on the rest of his family and wife turning up to catch him in the act. All he wants to do is make the women in his family happy.
A good old fashioned comedy.
Cast
Crew
Reviews
"As Ayckbourney as it gets" by Dan Chasemore for remotegoat on 07/05/09
May is possibly the most English month in the year. As the sun emerges from its 9 month long hibernation, thoughts turn to pub gardens and cricket, to warm beer and garden parties, to cream teas and Wimbledon, and to our most English of playwrights, Alan Ayckbourn. As I caught the train home from watching South London Theatre's production of Ayckbourns Round and Round the Garden, I reflected that I hadn't felt so English in a long time.
South London Theatre in West Norwood is not an easy theatre to find. The multimap link on their website seems to point to a non specific area containing a Tesco Metro, a Chinese takeaway and a Greek Taverna. So far, so cosmopolitan. However, when I finally stumbled on the delightfully dilapidated old fire station that houses the theatre, I couldn't think of a more apt setting in which to sit back and enjoy one of the billion or so light middle class comedies that Ayckbourn has produced over the years.
Round and Round the Garden is one part of Ayckbourn's Norman Conquests trilogy, recently revived at the Old Vic, and currently taking Broadway by a very modest storm. The trilogy centres around a weekend in a country house, with each play taking place in a specific room. Each play works perfectly well on it's own however, as Acykbourn, the master of undetectable exposition has crafted a classic garden farce in which the titular Norman is simply trying to keep all the women in his life happy.
Norman (Stevie Hughes) is trying to whisk his sister-in-law, Annie (Rebecca Weymouth) away for a dirty weekend in East Grinstead. However, although Annie's sister, Sarah (Eileen Coan) and her husband (Clive Manning) have come to look after the house, Annie decides not to go, and the four are forced to share an awkward weekend together, being joined later by Normans wife (Helen Chadney) and the ever present bumbling Vet, Tom (Alex Lamond). If you have seen an Ayckbourn before, you can probably guess the scrapes and misunderstanding that arise.
Overall, the performances were good, with Lamond's bumbling vet Tom, seemingly being channelled straight out of a Richard Curtis movie. Clive Manning's may-boy exuberance was well controlled in his portrayal of the hen-pecked Reg, and Rebecca Weymouth was sweet and naïve as Annie. The direction was solid, as we were treated to a refreshingly 'no frills' version of an Ayckbourn play, without dwelling on the somewhat more academical interpretations of his work we have seen recently. The jokes were simply played and most of them seemed to hit home with an appreciative audience.
Not all of the performances were spot on, and a few lines were fumbled, but this only served to enhance the complete 'Ayckbournness' of the evening. The audience were absolutely on board and to top it off, in the bar afterwards we sang Happy Birthday to an 88 year old chap who had been in the company for 30 years. We even got a piece of cake.
It is hard to give a star (or hooves) rating to a show like this. It was a very enjoyable piece of theatre, so giving it three stars feels a little harsh. On the one hand, it isn't West End standard, and I have definitely seen better acting and direction in professional productions (although I must have I have paid ten time the price to see infinitely worse!) But the evening for me was about the whole experience, from walking into this delightful theatre, to the welcome from the volunteer bar staff. And not once in the West End, have I ever been offered a slice of cake.
Gallery
http://www.photos.sltarchive.co.uk/thumbnails.php?album=59
Reminiscences and Anecdotes
Members are encouraged to write about their experiences of working on or seeing this production. Please leave your name. Anonymous entries may be deleted.
See Also
References
<references/>
External Links