Rock Concert (2007)
From sltarchive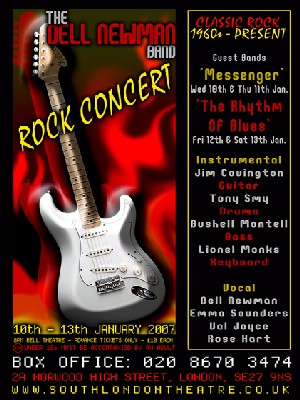 Performances: Wed 10th – Sat 13th January 2007, Bell Theatre
Introduction
The Del Newman Band headline a show made up of rock classics from the late Sixties up to the present.
The Del Newman Band
Supporting Acts
The first half of each gig was a supporting act:
Messenger
Wed 10th and Thu 11th January
The Rhythm of Blues
Fri 12th and Saturday 13th January
Crew
With thanks to: Maria Bates, Dee Fancett, the Bar and Box Office staff, Graham Clements and Hans Mudlamootoo
Reviews
Some review quotes go here
Gallery
Reminiscences and Anecdotes
Members are encouraged to write about their experiences of working on or seeing this production. Please leave your name. Anonymous entries may be deleted.
See Also
The Del Newman Band has performed at SLT several times over the years:
References
External Links