Road (2005)
From sltarchive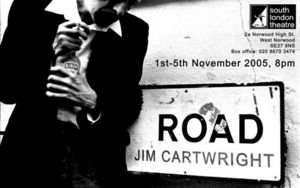 Directed by Emma Hillman
Performances: 1st – 5th November 2005, Bell Theatre.
Introduction
Road by Jim Cartwright has been compared to Under Milk Wood and this is a good model for the structure of the piece: like the narrator in Thomas' play for voices, Scullery our drunken guide meanders aimlessly up and down his road pointing out the features of the grim Lancashire landscape and setting the scenes for the glimpses we see of the inhabitants' lives.
Brenda wants a pound on one, Prof's after a recollection, Carol and Louise are looking for summat different, Barry and Marion are out to kill each other, Dor and Lane keep on snogging through. Eddie thinks he's a cowboy, DJ Bisto invites you to his Beatoven disco and Joey's just had enough. All human life is here. It's a poetic depiction of the desolation wrought on the industrial North during the government of Our Lady Thatcher. Despite this, the characters are juicy with vitality expressing themselves in great verbal arias. Shagging, smoking, fighting, drinking, disco, fish and chips, seduction, thievery, stolen dreams, lost ideals, soldiers, tarts, housewives, moochers, drunks, academics, Buddhists and skinheads. Community. Brink, Carol, Eddie and Louise finish the night off for us conveying their greatest fears and dreams, the hopelessness of their hope and the thought that somehow they might escape.
"Hold tight! Here we go! Come on! Watch the kerb missus! Road's coming round!"
There will be some entertainment in the bar before the show and at the interval provided by some of the inhabitants of Road.
"A surreal vision of the contemporary urban landscape…..uncomfortable and magical, funny and bitter. It is a Northern Under Milk Wood, high on pills and booze" Sunday Times.
"I promise you something different. Let's see how much difference you can take" Brink, Road.
Emma Hillman<ref>Directors Notes - SLT Website</ref>
Cast
Crew
Reviews
Some review quotes go here
Gallery
Reminiscences and Anecdotes
Members are encouraged to write about their experiences of working on or seeing this production. Please leave your name. Anonymous entries may be deleted.
See Also
Have there been other SLT productions of this play? Link to them here.
Or add anything that is related within this site. The author's page for instance or other plays with a similar theme.
References
<references/>
External Links