Rattlesnakes (2006)
From sltarchive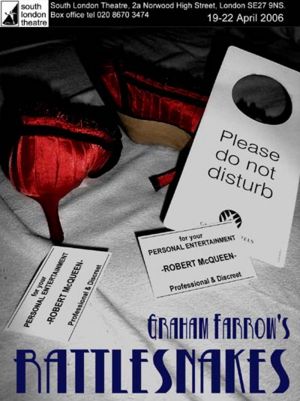 Directed by Mark Bullock
Performances: 19th – 22nd April 2006, Prompt Corner
Introduction
Rattlesnakes examines the seedy world of the gigolo providing sex to bored and lonely wives. A vigilante group of husbands seeks retribution in this hard-hitting study of betrayal and personal failure.
Rattlesnakes begins to hiss when three husbands seek revenge on a male prostitute. Proving their wives' secret isn't quite enough. The thirst for blood is quenched when McQueen, the gigolo, delivers a reality check for the husbands . . . truths he's learned from their wives. When one man's reckless wife shows up at the motel, the fangs open up and the only question is: Who will be the last to strike?
Cast
Crew
Special thanks to: Alan Buckman, Jenny Gammon, Anton Krause, Helen Chadney, Cast & crews of Elizabeth, Tomfoolery (2006) and Stay With Me (2006), Mike Elliott, Staff and Management of Ego, SLT Box Office Staff and Costume Department.
Reviews
Some review quotes go here
Gallery
Photo thumbnails go here with links to larger images.
Reminiscences and Anecdotes
Members are encouraged to write about their experiences of working on or seeing this production. Please leave your name. Anonymous entries may be deleted.
See Also
Have there been other SLT productions of this play? Link to them here.
Or add anything that is related within this site. The author's page for instance or other plays with a similar theme.
References
External Links