Rats! (2004)
From sltarchive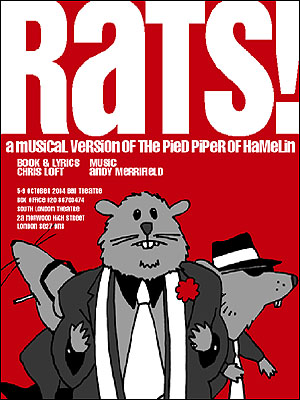 by Chris Loft
Music by Andy Merrifield

Directed by Chris Loft
Performances: Tue 5th to Sat 9th October 2004, Bell Theatre
Introduction
Welcome to Hamelin, the cleanest city in Europe, if not the world. It's even got its own sewage system – pretty advanced for the middle ages!
Of course, it wasn't always this way. Hamelin was once notorious for its lack of public facilities, poor education and incompetent bureaucrats.
However, following the election of Mayor Street (helped in no small part by Mr Wim and Mr Pole, his trusty advisors), Hamelin has been transformed, attracting people from far and wide who want to make this fair city their home. It's such an urban paradise, what could possibly spoil it?
What indeed?
Come and follow the adventures of the Mayor, his wife, his advisors, his townspeople (and their children), the rats that plague them and the mysterious pied piper who offers them redemption. Based on Robert Browing's famous poem, Rats! is a new musical extravaganza, fun for all the family (even Great Aunt Hilda).
Cast
Sarah - Afia Nicholas
Bert - Nicholas Martin
Elizabeta - Beth Munro
Bob - Viraj Bharadia
Mr Wim - Thomas Peacock
Mr Pole - Luke Martin
Mayor - Matteo Patmore
Piper - Deaglan Whelan
Mayor's Wife - Elise Ruby
Town Councillor - David Clements,
Citizens - David Clements, Niamh Donoghue, Camille O'Duffy, Nuru Saadi, Lucy Brown, Tania Bride, Jessica Stritch, Raffaella Patmore, Jordan Johnson-May, Rochana Johnson-May, Catherine Parkes, Naima Saadi
Children - Taidgh Donoghue, Kate Martin, Hiab Kehase, Destiney Territt Armstrong, Millie Mountain, Holly Stritch, Mina Hernandez-David, Hannah Lafayette-Ede, Rosie Taylor, Lia Todorva
Sewage Workers/Council Members - Frances Worley, Rheanne Murray, Truman Wright, Serian Carlyle, Connor Tolfrey, Kristin Caswell, Amy Legister, Shaiyann Fairweather-Graham
Crew
The cast would like to thank the following for their invaluable assistance on this production: Miriam Abdulla, Andrew Chadney, Jenny Clements, Natasha Copp, Eleanor Delaney, Caroline Durant, Dee Fancett, Julia Fawkes, Sharon Haughton, Helen Jones, Anton Krause, Maggie Kruger, Lancasters, Val Martin, Catherine Moniz, Rae Mulcahy, Debbie Nichols, Jess Osorio, Chris Patmore, Hilary Palmer, Deirdre Parkes, Brian Richardson, Streatham Wells Primary School, UBS AG, Chris Vian-Smith.
Reviews
Some review quotes go here
Gallery
Reminiscences and Anecdotes
Members are encouraged to write about their experiences of working on or seeing this production. Please leave your name. Anonymous entries may be deleted.
This production was over ten years ago now, but I remember it as being a real highlight of my time at SLT. We had two casts of children because of the number of performances, I think, and they were brilliant to work with. On top of that, some of the finest actors SLT could boast at the time willingly threw themselves into the roles of the rats (and gangsters' moles!) for which I remain very grateful. We also had a wonderful stage manager and crew, a brilliant and long-suffering assistant director, the amazing Louise Hodge who designed the set and a very hardworking team. Although I look back fondly, I seem to remember it wasn't all plain sailing at the time - I think Rosie had the toughest time as my PA, which is why I gave up directing and married her instead ha ha. Rats! continues to be performed at schools around the south and east of England and I am working on turning it into a children's novel, but I shall always have a soft spot for this production. Time for a cast and crew reunion? That would be weird...............
Chris Loft
See Also
Have there been other SLT productions of this play? Link to them here.
Or add anything that is related within this site. The author's page for instance or other plays with a similar theme.
References
<references/>
loftybooks== External Links ==