Punk Rock (2014)
From sltarchive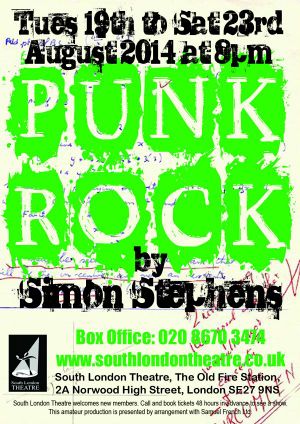 Performances: Tue 19th – Sat 23rd August 2014, Prompt Corner
Introduction
Seven sixth formers face up to the pressures of teenage life, while preparing for their mock A-Level exams and trying to get into Oxbridge. Though they are educated, intelligent and aspirational, step by step, the dislocation, disjunction and latent violence simmering under the surface is revealed.
Cast
Crew
Thanks
This production has been a pleasure to work on, and I think it showcases just how great SLT is in terms of versatility. It has been wonderful working with such a talented bunch of actors, some of whom I've known since they were eight, when I was still in the youth group myself! 13 years later I'm still here, directing shows and stuff.In another 13 years it would be nice to see these names still appearing. We have a wealth of talent at SLT and a whole load of people who love our crumbling old building, so thank you to all those volunteers who keep us going. Thanks to the youth group teachers, the box office, bar and FoH staff, wardrobe, the elusive techies and backstage people, those people who make posters look cool and the people who build things. Thank you also to Mitchell D for the support during rehearsals, Craig for all the lifts and everything, and Rachael for letting us use her garden and supplying small people for painting! We couldn't do it without you all. Enjoy!
Reviews
Some review quotes go here
Gallery
Reminiscences and Anecdotes
Members are encouraged to write about their experiences of working on or seeing this production. Please leave your name. Anonymous entries may be deleted.
See Also
Have there been other SLT productions of this play? Link to them here.
Or add anything that is related within this site. The author's page for instance or other plays with a similar theme.
References
<references/>
External Links
Edit Categories below - Bell or Prompt AND THEN REMOVE THIS MESSAGE!