Park (2009)
From sltarchive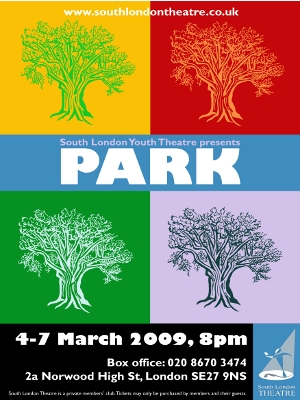 Directed by Maria Bates, Peter Stevens, Dave Hollander and Stuart Draper
Performances: Wed 4th – Sat 7th March 2009, Bell Theatre
Introduction
A new devised piece developed during South London Youth Theatre's Saturday workshops. The concept is simple: the show is divided into four playlets, each of which is loosely based on one of the seasons and set in an unnamed London park. These are taut tales of loss and discovery, fear and uncertainty, betrayal and hope, bound together by theme and setting.
Hide & Seek
directed by Maria Bates
Will you seek out your fears or hide in the shadows? This show developed from a simple game of "Hide and Seek" into what has become a metaphor for the transition from childhood innocence to the perplexity of teenage angst.
Jessica Brough
Scarlett Dobson
Catherine Parkes
Raffaella Patmore
Joe Pettitt
Chloe Anthony-Pillai
Liam Sharkey
Katy Thomas
Leanne Thomas
Stayin' Alive
directed by Peter Stevens
A lot can happen in thirty years. It's 1978 and the Bee Gees rule the air waves. All eyes are on Jim and Sarah, whose on-off relationship seems to be finally over. As the days get darker, the friends prepare for a party that will change all of their lives. 30 years later, the world is a scarier place. Emily and Nicole head to a party that threatens to sever their friendship...
Jim — Conor Jones
Emily — Lucy Pearce
Steve — David Clements
Nicole — Katie Patrick
Sally — Nina Caveliero-Knox
Rosie — Marnie Jacobsen
Sarah — Billie Miller
Beth — Anne Bailey
Eugene — Shivum Sharma
The Lodge
directed by Dave Hollander
A group of homeless teenagers seek refuge in a disused building in the middle of a park. When a stranger arrives, apparently chased by a gang, the group must decide whether it is safe to let him stay.
Annie — Zeena Starbuck
Lisa — Lucie Blackstaffe
Charlotte — Grace Lowe
Jane — Joanna Lanigan
Taylor — Reuben Lewis
The Gift
directed by Stuart Draper
There hasn't been a proper harvest in over ten years. The people of Imrath Tir are dying. The only way forward is the Path of the Fathers. Eight children enter the Circle of Standing Stones to confront their shame – and their futures...
Ffion — Asia Pettitt
Ula — Zoë Plummer
Venora — Joan Henshaw
Keegan — Jack Shepherd
Tully — Kristin Caswell-Robinson
Kayne — Nick Lowe
Enid — Alice Lowe
Lyn — Rachel Judge
Seth — Ryan Bentley
Crew
Reviews
Some review quotes go here
Gallery
Production photos by Dave Hollander
Reminiscences and Anecdotes
Members are encouraged to write about their experiences of working on or seeing this production. Please leave your name. Anonymous entries may be deleted.
See Also
Have there been other SLT productions of this play? Link to them here.
References
<references/>
External Links