No Exit (2018)
From sltarchive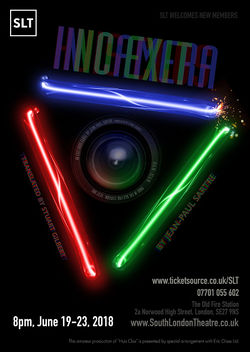 by Jean-Paul Sartre translated by Stuart Gilbert
Performances: Tue 19th – Sat 23rd June 2018, Old Fire Station
Introduction
Tense, clever and claustrophobic, No Exit, a translation of Sartre's 1944 play, Huis Clos, is the story of Garcin, Inez and Estelle who are about to discover why they have been brought inexplicably together in the confines of a small room.
Cast
On video
Crew
Thanks
With thanks to: Barry Heselden and Caroline Beckett for providing video locations. Bryon Fear for publicity design. Jess Osorio and Jenny Bennett for wardrobe assistance. Jeanette Hoile and the front of house team, and all the raffle and box office volunteers. Theatre Committee and anyone else who has listened patiently while the Director obsessed over the existentialist philosophy.
Reviews
Some review quotes go here
Gallery
Find more show photos here
Reminiscences and Anecdotes
Members are encouraged to write about their experiences of working on or seeing this production. Please leave your name. Anonymous entries may be deleted.
See Also
The same play in different translations/titles
References
External Links