New Directors' Showcase (2006)
From sltarchive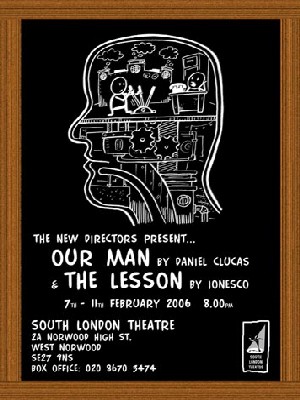 Performances: Tue 7th – Sat 11th February 2006, Bell Theatre
The New Directors' Showcase featured 2 contrasting one-act productions.
Our Man
Directed by James P Denny, Assistant Director Andrew Rickinson
Introduction
Our Man is the story of a soldier's day, told from the perspective of the individual senses inside his head. As he wakes, receives his orders and goes into battle, the conflict between the real world and his own tired and confused mind is humorously portrayed by the interaction between Nose, Ears, Mouth and Eyes, linked by Phones and overseen by their leader, Sir, who can never quite achieve the high standards he sets them all.
Cast
The Lesson
Directed by Max Whiteford
Introduction
Ionseco's play The Lesson is an exploration of the power, abuse and degradation of language. In it we meet a young, bright and enthusiastic student and her timid professor. Over the course of the lesson we see both these characters become the victim of the language they are using: the professor who becomes so involved in the language he is using that he loses control of himself and the student who is slowly but surely broken down by his tirade.
While the piece is clearly about language, it is undoubtedly about people: the old adage of absolute power corrupting absolutely. I'm interested in showing the personal side, the innocence of the student, the corruption of the Professor by his enthusiasm for Philology and his regret when he realises the results of his actions.
Cast
Crew (for both shows)
Reviews
Some review quotes go here
Gallery
Reminiscences and Anecdotes
Members are encouraged to write about their experiences of working on or seeing this production. Please leave your name. Anonymous entries may be deleted.
See Also
Have there been other SLT productions of this play? Link to them here.
Or add anything that is related within this site. The author's page for instance or other plays with a similar theme.
References
External Links