Nell Gwynn (2018)
From sltarchive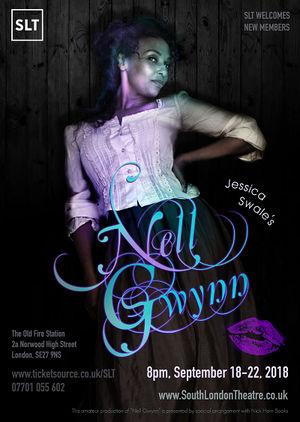 by Jessica Swale; music composed by Nigel Hess
Performances: Tuesday 18 – Saturday 22 September 2018, Old Fire Station
Introduction
London, the 1660s onwards.
King Charles II has exploded onto the scene with a love of all things loud, extravagant and sexy. And at Drury Lane, a young Nell Gwynn is causing stirrings amongst the theatregoers.
Bawdy. Sexy. Fun.
Cast
...and introducing Bee as The Spaniel
Musicians
Creative Team
Reviews
Massive applauds for the Nell Gwynn gang. An absolute tour de force from Jade, an exceptionally well cast ensemble behind her (would be unfair to single anyone out) and stand out music arranged by Marcus Reeves. Mark Ireson and team you nailed it! I would say "get a ticket" but I don't think there are many left! I am so glad I made it down - what a wonderful night of theatre xxx
Catherine Ellis Raku-Evans

Loved loved loved Nell Gwynn. Terrific fun. Wonderful cast, and Marcus Reeves you did a great job with the songs ... I can see you reprising that role of MD again. Well done Mark, you and your crew should be proud ... and Jade ... sensational darling!!! So glad you're selling out this week, you all deserve it. x
Bryon Fear

Well done Mark Ireson and all the cast and crew of Nell Gwynn for producing a rollicking fab production. Really enjoyed your first night and the play. Funny, bawdy and touching. Lovely performances and I loved the in jokes about the stage and acting. Go see!
Eddie Coleman

Thanks to all involved in Nell Gwynn for a highly entertaining night out full of wonderfully memorable performances and lashings of well delivered bawdy humour. Loved it.
Adam Crook

Well done all involved with Nell Gwynn, thoroughly entertaining, bawdyline maravilhoso!
David Carr

Wonderful show tonight from everyone. Cast, crew, operators, I loved every minute.
Kay George

A thoroughly entertaining and engaging evening, with super performances all round. The colourful costumes and the live music contributed to the overall enjoyment, and it was great to hear strong singing that never became shout-y.
Helen Jones

It was, indeed, a fabulous show, and I really enjoyed it. Great performances all round. Congratulations to the cast, crew and especially Mark Ireson.
Christine Theophilus

What a treat to see Nell Gwynn after journeying back from the warmth of Italy. Loved every minute of it and Nell was surely the star of the show. Audrey Lindsay, wow, your Portuguese was mind blowing. Well done everyone on a dazzling performance. I couldn't stop smiling.
Hazel Hindle

What a fantastic show and so nice that had to shovel up as there was a full house.
Linda White

Thanks to the Nell Gwynn cast and crew for a lovely evening yesterday. Great direction, lovely singing. It was a sell out and is deservedly so for the last two performances. Well done everybody.
Lee Ridgeway

Bravo! Loved it - well played all.
Bex Law
Thanks
They say it takes a village to raise a child; bringing this show to fruition over the past year seems like it has taken a small town. In addition to the cast and creative team, lots of folk have provided invaluable help in a hundred small and large ways:
Tom Carradine, Maureen Duignan, Fay Carradine, Jennifer Nettles, Emma Kerby-Evans, Kerstin at Bromley Little Theatre, Jenny Coleman at Beckenham Theatre Centre, Berry Butler and Nikki Packham at The Miller Centre, Elizabeth Callow, Tony Freitas from O Girasol, The SLT box office, front of house, raffle and bar teams, Bryon Fear, Naomi Liddle, Bex Law, Rory Hacker, Bee and our Theatre Committee rep, Jess Osorio, who has been a tireless support.
Thank you all so much. We couldn't have done it without you
Mark Ireson, director
Gallery
Poster video
Bryon Fear made this video showing the creation of the poster.
Reminiscences and Anecdotes
Members are encouraged to write about their experiences of working on or seeing this production. Please leave your name. Anonymous entries may be deleted.
See Also
Many of the characters in the play were actual historical figures, and their lives have provided source material for any number of writers of books, plays and films. Of the plays performed by SLT, Nell appears as a character in Playhouse Creatures by April de Angelis and Charles II is in The Libertine by Stephen Jeffreys. Kynaston, Nell and Charles also feature prominently in Compleat Female Stage Beauty by Jeffrey Hatcher.
References
External Links
On Wikipedia:
Other links that may be of interest: