Murder Mystery (2010)
From sltarchive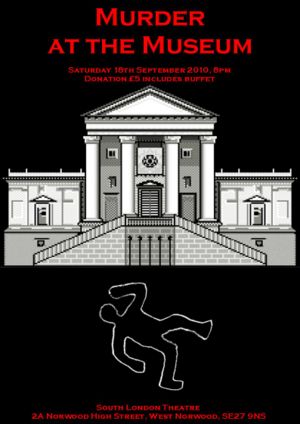 Social event in the SLTC Members' Club Bar, Saturday 18th September 2010.
Organised by Samantha Golton, with support on the day from Sue Jacobsen
Introduction
The National Museum (West Norwood Branch) is delighted to welcome you into its halls following a lengthy and costly refurbishment.
Angel Poiselampe our erstwhile director is celebrating by throwing his doors wide open and hosting a glamourous black tie evening event.
Drinks from all over the world will be available and a sumputous buffet will be presented for your delight. All profits will be ploughed straight back into the continued restoration of our beloved edifice.
The whole Poiselampe family together with several members of the museum staff will be present and there will be some extra-special guests making an appearance!
We hope you will join us from 8pm for what we expect to be an elegant evening full of surprises.
Cast
Written by Samantha Golton and the cast
Thanks to:
Gallery
Reminiscences and Anecdotes
Hey - Just to say thanks to Samantha and the wonderful Museum family for a very entertaining evening. Had a great time, if not a little hung-over now. Well done everyone. -MB
Snap! -CT
See Also
References
External Links