Mojo (2010)
From sltarchive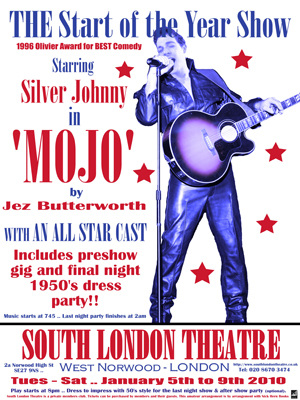 Directed by Dave Chaisty
Performances: Tue 5th – Sat 9th January 2010, Prompt Corner
Introduction
A black comedy set in Soho, a fast paced gangster play that tells the story of this particular night club's culture.
Would be rock 'n' roll star 'Silver Johnny' is on the road to fame and fortune during the summer of 1958 but encounters problems with his jealous manager, Ezra, the owner of the seedy Atlantic Club, who is hell bent on protecting him from the amorous advances of creepy local gangster/entrepreneur Sam Ross. Skinny, a member of Johnny's group and one of the club's pill-popping employees, discovers Ezra sawed in half in separate dustbins, and Ezra's ambitious associate Mickey announces that Ross intends to take over the Atlantic Club, setting the stage for major power struggles.
Time Out said: 'Having eschewed 1950s realism you have to find your bearings in Butterworth's fantastic argot. The amphetamine pace of [this] production creates the deliberate and effective atmosphere of cartoon Tarantino… The minutely observed performances, however, inexorably reel you in; ultimately furnishing Butterworth with one of the most dazzling Royal Court main stage debuts in years.'
The Independent on Sunday said: 'Welcome to the authentic world of the Krays, though convulsively foul-mouthed in the manner of present-day successors. But while one senses Tarantino grinning like a cruel child at the fantasies he's unleashed, Butterworth seems genuinely curious about the druggy characters he has created.
A selection of 50's hits were performed in the Members' Club Bar before each performance by Daniel Kelly
Cast
Crew
Thanks to: David Lomas for encouragement and confidence, Steve Imrie (Fluffer) for his muscle, Ruth Huggett for recognising quality (Rep), Carole Coyne for sorting us out with rehearsal space, to the Gipsy Hill Tavern for the same, to Karen and James Webb for their untiring duty to SLT in both music editing and publicity and to you all for your friendship, inspiration and care for quality. Both Jill and I will miss you all as we move to the West Country.
Reviews
Some review quotes go here
Gallery
The full set of Phil's photos of the production can be seen here
Reminiscences and Anecdotes
Members are encouraged to write about their experiences of working on or seeing this production. Please leave your name. Anonymous entries may be deleted.
See Also
Have there been other SLT productions of this play? Link to them here.
Or add anything that is related within this site. The author's page for instance or other plays with a similar theme.
References
<references/>
Soundtrack
High School Confidential by Jerry Lee Lewis
Guitar Man by Elvis Presley
Diamonds by Jet Harris & Tony Meehan
Get A Job by The Silhouettes
Fast Freight by Arvee Allens (AKA Ritchie Valens)
Yakety Yak by The Coasters
Send Me The Pillow You Dream On by Hank Locklin
Brand New Cadillac by Vince Taylor & His Playboys
You can listen to all the songs used in the production here
External Links