Measure for Measure (2009)
From sltarchive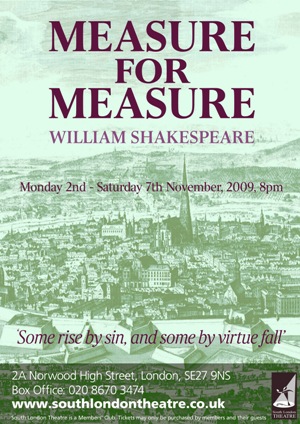 Directed by Dave Hollander
Performances: Mon 2nd – Sat 7th November 2009, Bell Theatre
Introduction
Concerned at the licentious behaviour of Vienna's citizens, the Duke leaves the city and installs his moralistic deputy, Angelo, as temporary leader. He returns in disguise to observe his protégé's progress. Brothels are shut down, their owners punished and a new law decrees that sex outside marriage will be punishable by death. Claudio, a young man whose fiancée, Juliet, is pregnant, is called before the authorities, who stand by the law and promise his swift execution as an example to the public. When his virtuous sister Isabella hears of his plight, she leaves her nunnery and pleads with Angelo for Claudio's life, but there seems little hope of his redemption, until it becomes clear that the new leader is attracted to her virtue. He makes her an offer: Claudio's life will be spared if Isabella agrees to sleep with Angelo...
Measure for Measure has long been referred to as one of Shakespeare's "problem plays", since it is neither comedy nor tragedy, but uses elements of both genres to focus on its themes of morality and hypocrisy. Intensely dramatic scenes contrast with the uproarious brothel comedy of Mistress Overdone, Pompey and the badly behaved residents of the city. The subject matter of a seemingly righteous public figure undermined by his own peccadilloes appears particularly relevant, and the emotions of the characters remain as true to life today as ever.
Cast
Crew
Reviews
Some review quotes go here
Gallery
http://www.photos.sltarchive.co.uk/measure_for_measure
Reminiscences and Anecdotes
Members are encouraged to write about their experiences of working on or seeing this production. Please leave your name. Anonymous entries may be deleted.
See Also
References
<references/>
External Links