Love Upon the Throne (2002)
From sltarchive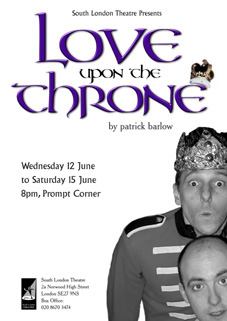 Directed by Peter March
Performances: Wed 12th ­- Sat 15th June 2002, Prompt Corner
Introduction
Dear Members,
As a glorious finish to the Jubilee Week celebrations this all-star production will be the full and unexpurgated account of the romance, courtship and matrimonial proceeding of Charles and Diana (yes the "damaged" Diana), as performed by the company of the National Theatre of Brent, Desmond Oliver Dingle (James Sparling) and his trusted assistant Raymond Box (Stuart Draper). Desmond, the theatre's dramaturge and famed Artistic Director, is proud to announce the SLT's production as the initial amateur performance of his 1998 masterpiece and is delighted that there will be opportunities for punters/buffs to savour how tastefully he has crammed these epic events into a single profound and epic piece of theatre.
Take advantage of our new advance sales forms to secure your seats now and you'll be riveted to them by excitement and genuine royal fervour - a feeling not experienced in this proletarian age.
Desmond 'Olivier' Dingle<ref>Letter from the Aritistic Director of the National Theatre of Brent announcing the show on the main SLT site</ref>
Cast
Crew
Reviews
Some review quotes go here
Gallery
Reminiscences and Anecdotes
I think this was the most fun I ever had on the SLT stage. Great to be working with James, Peter is the drollest of directors, and Anna York managed not to have a nervous breakdown in the lighting box, despite our constant rewriting of the script every night. Stuey
See Also
Have there been other SLT productions of this play? Link to them here.
Or add anything that is related within this site. The author's page for instance or other plays with a similar theme.
References
<references/>
External Links