Little Light (2017)
From sltarchive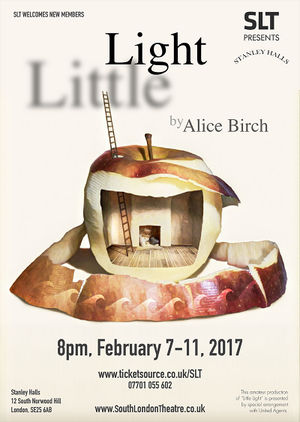 by Alice Birch
Performances: Tue 7th – Sat 11th February 2017, Upper Hall, Stanley Halls
Introduction
The action takes place in a house by the sea in Devon, present day.
Little Light is a play about family, love, loss and how as individuals we all handle these things very differently. As the play moves along, we unpick the sibling relationship and its basis in a shared history and ask how important past events are; if we should just leave them there and when we should let go.
Cast
Crew
Reviews
Some review quotes go here
Gallery
Reminiscences and Anecdotes
Members are encouraged to write about their experiences of working on or seeing this production. Please leave your name. Anonymous entries may be deleted.
See Also
References
External Links