Julius Caesar (2007)
From sltarchive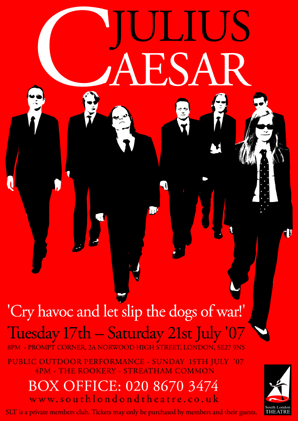 Directed by Maya Gabrielle Talbot

Performances: Tue 17th – Sat 21st July 2007, Prompt Corner
Introduction
Rome, a democracy, has a leader who wishes to be a dictator, a king. Is this death for democracy? Will Romans no longer be free men? What is to be done about Julius Caesar?
Julius Caesar is Shakespeare's first great tragedy. It tells the story of the conspiracy to kill Caesar, his assassination, and the civil war that followed, as Caesar's ghost bloodily pursued the chief murderers across the Roman world.
Ambition, idealism, conspiracy, murder, civil chaos and war propel this play forward at a furious speed. It is words and spin that prove the most dangerous weapons in the battle to win the hearts and minds of the people.
Cast
Crew

The cast and crew would like to extend their thanks to the following people who have helped with our production: Val Williams in costume, Philip Wale and the staff at The Hob, Theatre Committee, General Council, Anna York and her box office team, the lovely bar staff and FOH team, Mike Elliott and Dee Fancett.
Reviews
Some review quotes go here
Gallery
Production photos by Mark Davies
Reminiscences and Anecdotes
Members are encouraged to write about their experiences of working on or seeing this production. Please leave your name. Anonymous entries may be deleted.
See Also
References
External Links