Jesus Christ Superstar (2016)
From sltarchive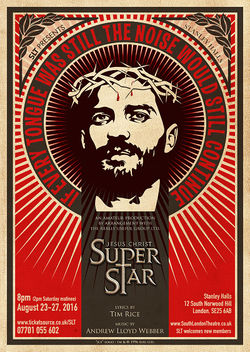 by Tim Rice & Andrew Lloyd Webber
Directed & Designed by Bryon Fear
Musical Director - Gerard Johnson Choreographer - Anna Callender
Performances: Tue 23rd – Sat 27th August 2016, Main Hall, Stanley Halls
Introduction
The action takes place in Jerusalem in the last 7 days of Jesus of Nazareth's life.
Cast
Band
Crew
Thanks & Acknowledgements
A great many people have assisted in getting this epic production off the ground. We are entirely indebted to them for their kindness, talent and time. It is with great respect that we thank the following people and sincere apologies to anyone missing from this list - you are thanked regardless.
Thanks to The South London Theatre Committee and the General Council for their unwavering support of the show. It has been a complex endeavour and their support throughout the process has helped enormously.
Many thanks to the SLT sewing bee who helped to construct the many costumes. SLT's Front of House, Wardrobe and Box Office teams who ensure the smooth running of our shows and the cast and crews who have had to rehearse above or below us- your patience was appreciated! Aso Andrew for playing the piano when Gerard was away.
Thanks to David Somner and his team at Stanley Halls. Particularly Clare Haward who has managed the scheduling of rehearsal space so brilliantly. Danny for his banter and generosity of time. Coffee Craft for keeping us going and Aelfa for the loan of their radio mics. And to Q - without whom this show would not have been possible - your assistance has been invaluable and we can not thank you enough.
Many thanks to the people who have worked behond the scenes, Dilys, Anton, Mark, Sean & Joel. Also to our creatives behind Herod's fabulous apparel, Stephen and Graham. And to Chaz, who always goes above and beyond the call of duty, even when he's in the cast!
Thanks also to James Patrick Denny for the additional publicity, Janet at Croydon Radio and all of our suffering partners...we promise we'll be home soon.
Finally we would also like to thank our friends and staff at The Albion who have kept us watered at the end of the evening - particular thanks to Dave Glew, the landlord, who has sponsored the printing of the programme.
Reviews
Some review quotes go here
Gallery
Reminiscences and Anecdotes
Members are encouraged to write about their experiences of working on or seeing this production. Please leave your name. Anonymous entries may be deleted.
See Also
Have there been other SLT productions of this play? Link to them here.
Or add anything that is related within this site. The author's page for instance or other plays with a similar theme.
References
External Links