Henry IV (1983)
From sltarchive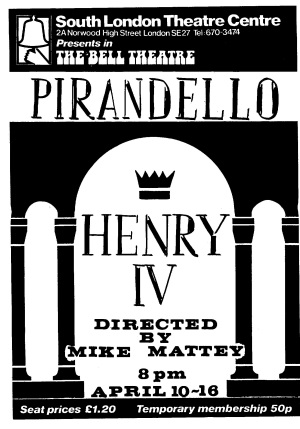 Directed by Mike Mattey
Performances: Sun 10th – Sat 16th April 1983, Bell Theatre
Introduction
20 years ago Henry was simply riding his horse in a fancy-dress pageant dressed as the 11th-century German Emperor Henry IV. He fell from his horse, injured his head and became fixed in the 11th century like a stopped watch. Dr Genoni and his friends have a plan to give Henry a shake and start him ticking again as though nothing had happened. They want to bring Henry face to face with reality - but what is reality?
Cast
Crew
Reviews
"..an excellent set, lighting could have been better. Les Lidyard excellent, An usual high standard....Bob Marshall.
"..despite an excellent set and sterling performances from Les Lidyard and Ann Mattey the production struggled against too many handicaps to succeed, in particular the play itself..." Eddie Clark.
"...costume and set extremely good, and lighting...." visitor.
"Les' performance was good, majority of the others were fairly solid but the direction was sometimes a little awry. The lighting designer should be told the first principal of stage lighting is that the performance should be seen...." Mike Mawby.
Gallery
Reminiscences and Anecdotes
Members are encouraged to write about their experiences of working on or seeing this production. Please leave your name. Anonymous entries may be deleted.
See Also
Have there been other SLTC/SLT productions of this play? Link to them here.
Or add anything that is related within this site. The author's page for instance or other plays with a similar theme.
References
<references/>
External Links