Hand in Glove (2015)
From sltarchive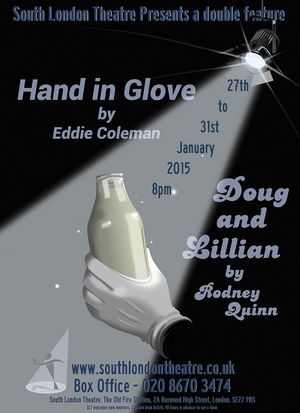 Performances: Tue 27th – Sat 31st January 2015, Prompt Corner
Presented in a double-bill with Doug & Lillian (2015)
Introduction
Hand In Glove was inspired by a short lived "reality" endurance show called Touch The Truck based on competitions in the US which apparently still run in various parts of the world. It also relates to Big Brother and all of the other televised endurance competitions which have spawned in the twelve years since it was first produced.
When we join the last three participants they have been standing with one hand on a car – with short breaks – for 74 hours and the competition is getting fierce. With one hand remaining on the car they resort to all sorts of mind games and tricks to try to win, each for their own reasons and goals. But how much truth are they telling each other and who exactly can we believe. When fame and fortune beckon are there any limits to what you would say and do to win?
Cast
Crew
With Thanks To:
The cast and crews of Nunsense, Remote and The Thrill of Love. To the Tower Theatre, Alan Buckman for props, all volunteers of the SLT bar, front of house, box office, Theatre committee and the Publicity Director; staff of the Hope, Rosendale and Park pubs.
Reviews
Some review quotes go here
Gallery
Reminiscences and Anecdotes
Members are encouraged to write about their experiences of working on or seeing this production. Please leave your name. Anonymous entries may be deleted.
See Also
Have there been other SLTC/SLT productions of this play? Link to them here.
Or add anything that is related within this site. The author's page for instance or other plays with a similar theme.
References
External Links