Gullible's Troubles (1982)
From sltarchive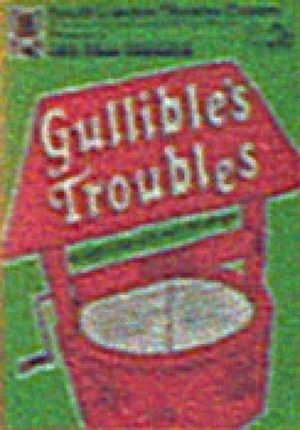 Devised and produced from an original idea by Angie Shrubsole
Directed by Harry Sanders & Adrian McLoughlin
Musical Director - Lynn Jenner, assisted by Maddie Cordwell
Performances: Sat 2nd – Sun 3rd, Tues 5th - Sun 10th & Tues 11th - Sun 16th January (Matinees all Saturdays) 1982, Bell Theatre
Introduction
CHEER - at the stout hearted bravery of King Gullible!
GASP - at the evil audacity of Princess Putrida!
THRILL - to the awesome splendour of the Nether Regions!
WARM - to the rustic friendliness of the Mothers Busybee and Scattergood!
DRINK - to the alcoholic incompetence of the Giver of Good Things!
QUAKE - with terror at the curse of Raspberry jam!
Cast
Chorus of Ramparts, Trees, Vegetables & Furniture
Crew
Reviews
From Scene.
"Exciting!" "Great!" "Amusing!" "One of the best pantos I've ever seen!" "I liked Dennis Best" ... Children from Langbourne school.
"Enjoyed it; one of the best Christmas shows we've done. Sometimes over the top but as it should be. Hit the right level" Malcolm Woodman, member.
"Absolutely lovely. Everything a panto should be" Grace (Member) & Janice (Aud.)
"Talented and confident cast wasted and only sparkled intermitently due to low-key direction. Costumes and sets dull; again too low-key. Putrida and Dennis were great - splendid, big performances! Many opportunities to embellish songs and comedy not realised. Poor focusing with too many slight comedy moments milked to death: case of directors not knowing when to leave well alone. With right directors (authors should not direct own play) it could have been an excellent children's show instead of just a good one. Maybe I'm being too hard. There was only one little girl in the audience tonight and it needed an audience full of children for adults to enjoy it. Where were the children." Anon (suspect a director), audience.
"It was good; my daughter (aged 11) thought it was very good and liked Dennis. Old fashioned corn. Fairy godmother and wicked sister really good. Prince and Princess helped put over the corn and played well to the audience. Enjoyed but wanted more audience participation. Liked Cinderella better; easier for children to relate to. My daughter though the best and funniest thing in the play was Putrida and the chorus singing 'Pretty Girl' song. Did you advertise it enough? Audience was mainly adults. Were there any posters in the shops advertising the age group it was suitable for? I didn't see any. If it were advertised better and your reasonable prices made known parents would have taken groups of children." Mrs Dorren McKenzie (audience)
'It's off the beaten track'
Most of us will prefer to use the word patomime, which is what it essentially is. And it is indeed a pleasure to welcome something new for a change and to get away from the beaten track of all the old familiar stories. 'Gullible's Troubles' derives from a script by Angie Shrubsole, but seems to a great extent to be a team job. the story of wicked Princess Putrida plotting to usurp her father's kingdomand to do away with him and her good sister, Princess Saccharina owes at least something to Snow White and oddly enough, King Lear. But the story comes up fresh and charming and we meet a gallery of quaint and interesting characters. King Gullible, played by John Lyne, is amiable but absent-minded. Along with the trusty Fluffable , a solemn civil servant as played by Chris King, he sets out on a mission to rid the land of the raspberry jam-loving monster of the Nether Regions. The pantomime has a number of good ideas but the posing of people as inanimate objects is not, in practice, one of them, though the chorus of vegetables comes over as a very jolly ensemble piece. Definitely one of the.............
........a sort of jobbing Master of Ceremonies who is always about to do an electrifying turn when the whistle is blown to announce that the next scene is ready. In the end, to our approval, he does a Magnusson on the whistle with the words: 'I've started, so I'll finish.' The singing has its ups and downs, but Midge Adams is an unqualified success as the evil Putrida, especially in an amusing adaptation of the Laughing Song from 'Die Fledermaus'. Julia Voak and Jeremy Brudenell exemplify the triumph of virtue as Saccharina and Prince Bicep, maquerading as a rustic pair called Diana and Charles. Pam Lyne exudes a genial rusticity as Mother Scattergood and Jilly Cowley affects an amusing gentility as her companion, Mother Busybee. Mickie Hewitt is the Giver of Good Things, somewhat over-partial herself to gin. Mike Gabe is the baddie, Scrimpscrape, laying on the Welsh vowels with a trowel, and Matthew Lyne is his sidekick Bumble, aptly named. The piece is efficiently directed by Harry Sanders and Adrian McLoughlin..........."
Don Madgwick, The Croydon Advertiser
Gallery
Colour Photos by Brian Fretwell
Reminiscences and Anecdotes
Members are encouraged to write about their experiences of working on or seeing this production. Please leave your name. Anonymous entries may be deleted.
See Also
Have there been other SLTC/SLT productions of this play? Link to them here.
Or add anything that is related within this site. The author's page for instance or other plays with a similar theme.
References
<references/>
External Links