Festival of Youth (2007)
From sltarchive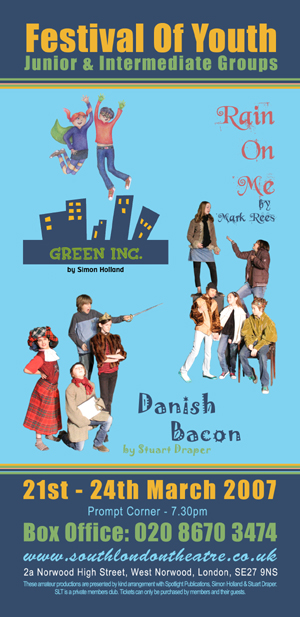 Performances: Wed 21st – Sat 24th March 2007, Prompt Corner
The Festival of Youth 2007, featured three productions from the junior and intermediate groups of South London Youth Theatre.
Green Inc.
Directed by Angela Barnes and Simon Holland
Introduction
It's a cold night in the city. Taps drip, dogs bark, warm air escapes through windows, litter rolls along like tumbleweed, television sets play to empty rooms and Christmas lights twinkle in the shopping centre. Below these streets, a gang of children listen, watch and wait to hit back against these blots on the urban landscape. Their mission: to right the wrongs of wasted energy and channel it towards a cleaner, fluffier, greener world. They are bold, unconventional and sometimes downright silly but the future of the planet is in their hands.
Cast
Members of the Junior group
Rain On Me
By Mark Rees
Directed by Victoria Waddington
Introduction
This award-winning drama for teenagers is a modern Romeo & Juliet with overtones of West Side Story and Roxanne. While the drama is serious in parts, it is hugely entertaining and contains realistic and sometimes hilarious dialogue, which has much to appeal to teenage and adult audiences alike.
Cast
Members of the Intermediate group
Danish Bacon
Directed by Carly Binger and Stuart Draper
Introduction
There is something rotten in the state of Denmark. King Cloudyeye has murdered his brother and married his wife, Dirtrude. His nephew, Omelette, is not impressed. With errant ghosts, a troupe of amateur dramaticals and a skull with a unique line in comedy patter, all is set for an evening of fantastical, frenetic vacuum-packed fun.
Cast
Members of the Intermediate group
Crew (for all shows)
Reviews
Some review quotes go here
Gallery
Reminiscences and Anecdotes
Members are encouraged to write about their experiences of working on or seeing this production. Please leave your name. Anonymous entries may be deleted.
See Also
Have there been other SLT productions of this play? Link to them here.
Or add anything that is related within this site. The author's page for instance or other plays with a similar theme.
References
External Links