Forget-Me-Not Lane (2017)
From sltarchive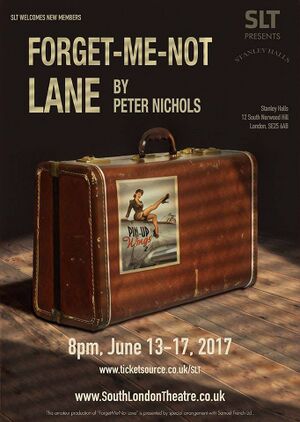 Performances: Tue 13th – Sat 17th June 2017, Upper Hall, Stanley Halls
Introduction
Frank is packing his suitcase, and summons up memories of his childhood and adolescence during the Second World War, watching the experiences of his younger self with a mixture of amiable amusement, mortification and nostalgia.
Cast
Crew
Thanks
The Director would like to thank the following people for their help and assistance in making this production happen: Caroline Beckett, Gudrun Bennett, Charles Doyle, Bryon Fear, Jeanette Hoile, Jess Osorio and the Beckenham Theatre Centre.
Reviews
Some review quotes go here
Gallery
Reminiscences and Anecdotes
John Lyne played Frank in our 1974 production of this play.
See Also
References
External Links