SLT Write Club Presents (2007)
From sltarchive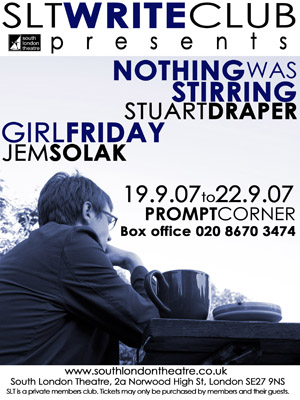 Performances: Wed 19th – Sat 22nd September 2007, Prompt Corner
The Festival of New Writing features 2 new pieces, written by SLT members.
Nothing Was Stirring
Directed by Mark Bullock
Introduction
"That's when I started playing Tetris. I liked the way everything slotted together. It all made sense. It all fitted. It all fitted together in exactly the same way I don't."
Trapped in a loveless marriage, Jane contemplates her life - and a bombshell that forces her to make a decision she will never get the chance to regret.
Cast
Girl Friday
By Jem Solak
Directed by Paula Kelly
Introduction
Alex is looking for the perfect woman – and maybe he's found her. The only problem is he doesn't know her name, where to find her, or where she may turn up next. What he does know is that she keeps popping up in his life Friday after Friday without his ever getting the chance to meet her. With the advice of a spectacularly unhelpful best friend, Alex tries to unravel the meaning of Girl Friday while contending with an opinionated coffee-house waitress and a sister with romantic surprises of her own. This is a light-hearted look at infatuation and love, expectations and disappointments.
Cast
Crew for both shows
Reviews
Some review quotes go here
Gallery
Production photos by Mark Davies
Reminiscences and Anecdotes
Members are encouraged to write about their experiences of working on or seeing this production. Please leave your name. Anonymous entries may be deleted.
See Also
References
External Links