Educating Rita (2014)
From sltarchive
Performances: Tuesday 3rd to Saturday 7th June 2014, Bell Theatre
Introduction
Failed poet, failed husband and a self-acknowledged "appalling teacher of appalling students", somehow Frank has managed to hold onto his post as a university lecturer despite a prodigious intake of Scotch.
Working class hairdresser Rita is determined to change her life. She wants to know "everything" and thinks an Open University course in English literature might just be the answer. In need of extra cash to fund his drink habit, Frank agrees to tutor her, totally unaware of the whirlwind that's about to enter his world.
Chris Stooke is Frank and Natalie Barker is Rita in Willy Russell's "drama that happens to be very, very funny". Inspired by his own experiences of returning to education, Educating Rita is a theatrical gem which has never been out of production somewhere in the world since it opened in 1980. Come and see why.
Cast
Crew
Thanks
The cast and creative team would like to thank: Carrie Andrews - rehearsal space, transport, music advice, even more books and endless patience; Jai Campbell; James Hough; Barry Heselden; Lindsey Scott; Caroline Doyle and the company of There Is A War.
All the volunteers in the bar, box office, publicity and front of house teams - SLT would fall apart without your hard work.
Our condolences and commiserations to Dave Hollander and the company of Low Pay? Don't Pay!, which you should have been watching now.
Music
The music played between scenes was a selection of pieces from 12 Concerti Grossi, Op. 6 by Arcangelo Corelli, performed by The English Concert, conducted by Trevor Pinnock
Reviews
Some review quotes go here
Gallery
Phil Gammon's album of photos are here
Abandoned poster design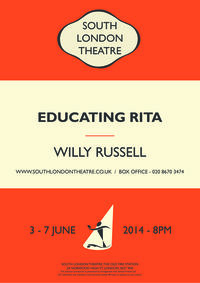 The poster you see above was the second design, the one which actually made it onto the publicity material. The original design (right) was not used in case of possibly upsetting a well known publisher, and is included here for historical interest only.
Reminiscences and Anecdotes
Members are encouraged to write about their experiences of working on or seeing this production. Please leave your name. Anonymous entries may be deleted.
See Also
Other SLT performances of Willy Russell's plays:
References
<references/>
External Links