Dublin Carol (2008)
From sltarchive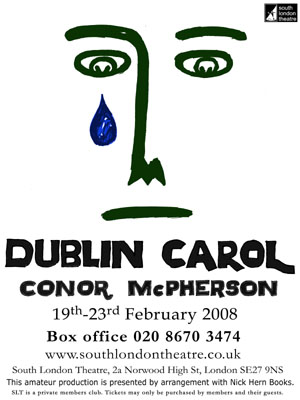 Performances: Tue 19th – Sat 23th February 2008, Prompt Corner
Introduction
Dublin Carol is set on Christmas Eve, centring around John Plunkett, who is an undertaker in his late fifties. The three scenes take place in his office in Dublin on Christmas Eve.
In the morning we see John and Mark, a twenty-year-old boy who is helping John while the boss is away. John and Mark return from a funeral service, and John regales Mark with stories from his past, and how he met Noel, who is, incidentally, Mark's uncle. Next, Mary arrives, who is a woman in her thirties and has a difficult request to ask of John.
The final scene is back with Mark and John, and takes place towards the end of the day and draws the play to its close.
Cast
Crew
Reviews
Some review quotes go here
Gallery
Production photos by Mark Davies
Reminiscences and Anecdotes
Members are encouraged to write about their experiences of working on or seeing this production. Please leave your name. Anonymous entries may be deleted.
See Also
Have there been other SLT productions of this play? Link to them here.
Or add anything that is related within this site. The author's page for instance or other plays with a similar theme.
References
<references/>
External Links