Dick Barton: The Tango of Terror (2011)
From sltarchive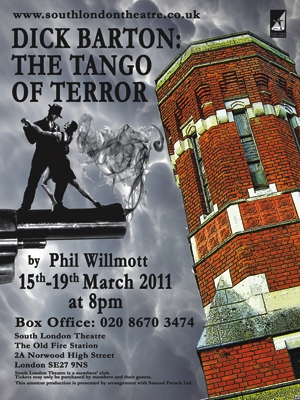 by Phil Wilmott directed by Jack King
Performances: Tuesday 15th to Saturday 19th March 2011, Prompt Corner
Introduction
Based on the classic 1940s radio serial this is a truly hilarious send-up of all things frightfully British, gung-ho jolly hockey sticks and putting Johnny Foreigner well and truly in his place.
A ruthless Latin lothario has set his sights on the women of London. No gal is safe from the swarthy continental's sultry seductions as he cha-cha-chas his wicked way into their boudoirs and jewellery boxes. But have no fear, square-jawed British hero Barton and his team are on hand to save the day.
Cast
Crew
Reviews
Naomi: Loved it! Yes, it's a bit rough round the edges in places, but the sheer jollity and sense of fun and gusto from the performers, not to mention a daftly funny script powers the show on and makes it impossible not to have a good time.
Sardines: http://www.sardinesmagazine.co.uk/reviews/review.php?reviewsID=133
Gallery
Thanks to Phil Gammon http://www.photos.sltarchive.co.uk/dick_barton/
Reminiscences and Anecdotes
Members are encouraged to write about their experiences of working on or seeing this production. Please leave your name. Anonymous entries may be deleted.
See Also
Have there been other SLT productions of this play? Link to them here.
Or add anything that is related within this site. The author's page for instance or other plays with a similar theme.
References
<references/>
External Links