Close the Coalhouse Door (1969)
From sltarchive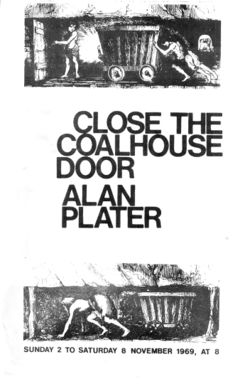 by Alan Plater
Directed by Audrey Broderick
Performances: Sun 2nd – Sat 8th February 1969, Theatre
Introduction
This is a story about the miners of Durham, in speech and song. It was originally mounted at the Roundhouse Theatre in London, under the direction of Joan Littlewood. The SLTC had the privilege of staging the first amateur production, which was then featured later that year at the London Drama Festival, at the University College Theatre.
Cast
Crew
Reviews
Some review quotes go here
Gallery
Reminiscences and Anecdotes
Members are encouraged to write about their experiences of working on or seeing this production. Please leave your name. Anonymous entries may be deleted.
The show was produced on an open stage, with small pieces of scenery to suggest the various locales, and a silhouette of the mine's winding gear against the cyclorama. It therefore presented a real challenge to the lighting designer, given that it all had to be controlled by SLTC's little 24-way switchboard. The real fun came when we transferred to the University College Theatre and I was able to set the same plot on their enormous electronic switchboard, and operate it myself...Alex Kanarek.
See Also
Have there been other SLTC/SLT productions of this play? Link to them here.
Or add anything that is related within this site. The author's page for instance or other plays with a similar theme.
References
<references/>
External Links